This was a chase-of-opportunity with my kids while visiting family in western Oklahoma. Before heading out, I brewed up my traditional personal estimate for success for the day:
Thunderstorms 75%
Transient Structure 50%
Supercell 15%
Rotating Wall/Funnel 5%
Tornado 1%
I got a late start getting out of the fog and drizzle of Elk City and got to my target in Vernon by 20Z — about an hour later than I wanted to. It was nice to see clearing and bubbling cumulus to the south. After fueling up and messing around with the latest data for too long, we headed further south into the clear and near the junction of Hwy 183 and 277 by 21Z. There were two areas of initiation at this point: some early development to my northwest north of Seymour, and a more mature cell near Archer City. The Archer City tower looked great, but I opted for the Seymour target since it didn't involve playing catch-up, and being closer to the triple point, I thought it might have a better fetch of backed surface winds. The problem with this is that the western target was also further north and so was first to greet the cold front. It also got to choke on stable inflow from the Archer City storm. (click images for larger versions)
My daughter checking out the Archer City tower — 2110Z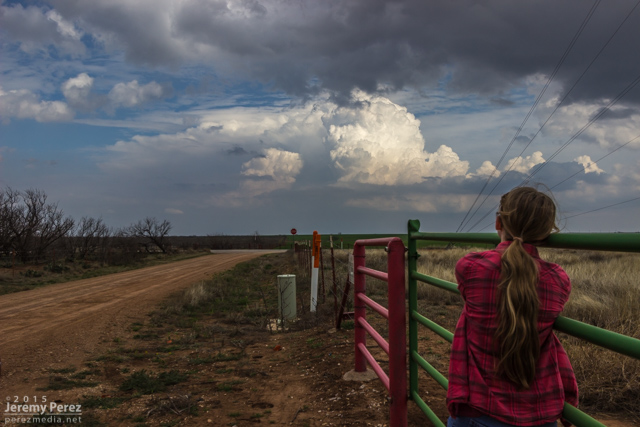 Until it got wiped out though, it was a nice early-season chase. After grabbing a few shots of that tower to the east, we drove back north to watch the inbound Seymour storms. At an overlook east of Lake Kemp I met Marcus Diaz, Jason Boggs, Bobby Hines, Mark Eslick, and Tyler Hudson. We shared the views for a while as the convection gained strength and developed some structure. As the forward flank gust front finally started spitting rain on us, we hopped in our cars and headed our separate ways. Road options were pretty scarce, and we had to get a ways south of the storm before getting back east on Hwy 277 to get ahead of it.
Some structure on the developing cell near Lake Kemp — 2150Z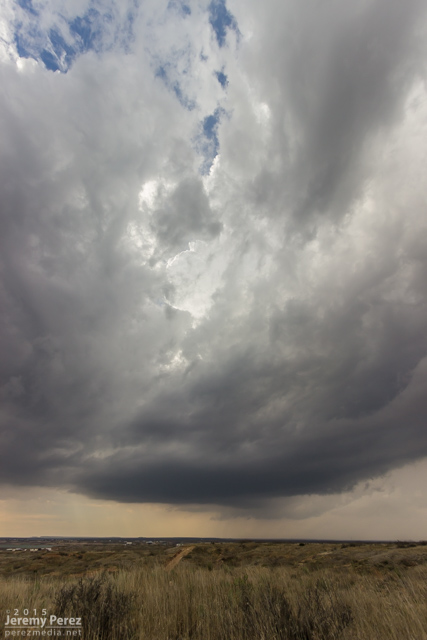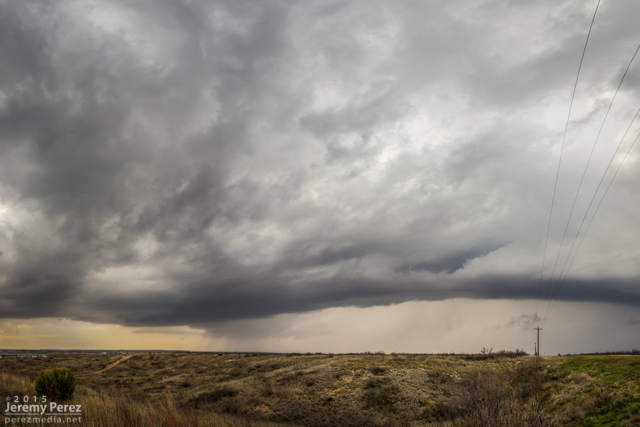 Marcus Diaz, Mark Eslick, Tyler Hudson and Jason Boggs check out radar and the storm base east of Lake Kemp — 2151Z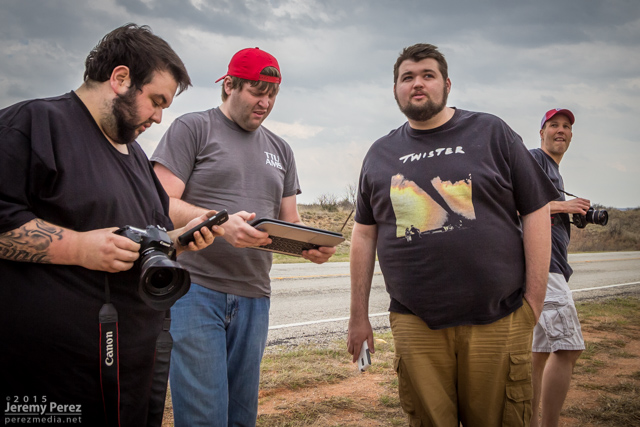 Encroaching outflow — 2204Z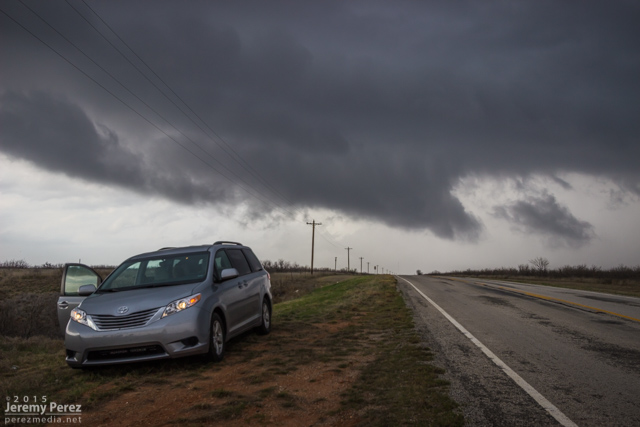 A north option on SR 25 put us in a spot to look into a beautifully sculpted vault with a lengthy arcus/inflow tail spanning the sky and racing into the storm base. As the forward flank started gusting toward us, we cruised back south to get out of the way.
Storm base and pump jack from SR 25 — 2242Z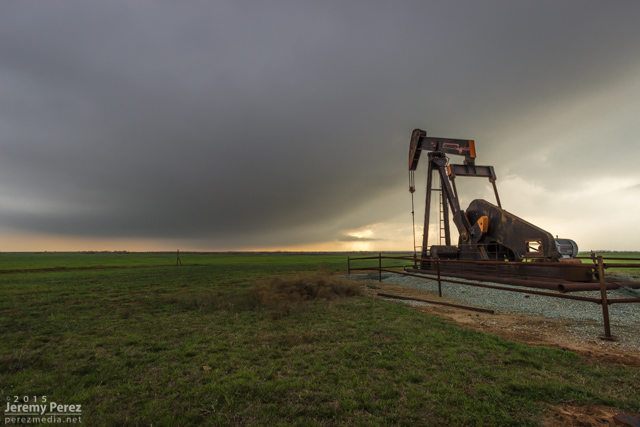 Terraced vault with arcus/inflow tail racing westward from SR 25 — 2247Z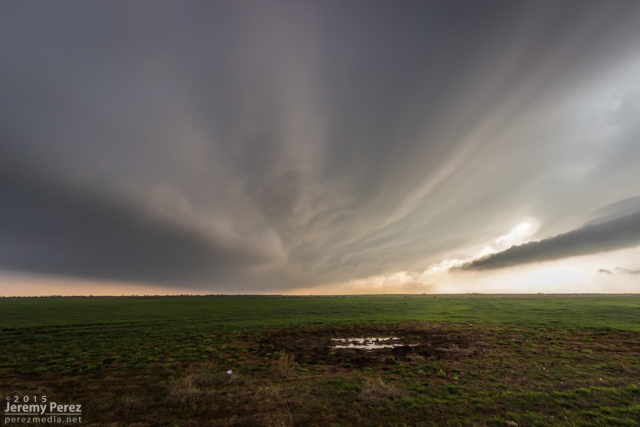 Arcus and shelf gusting southward along SR 25 — 2247Z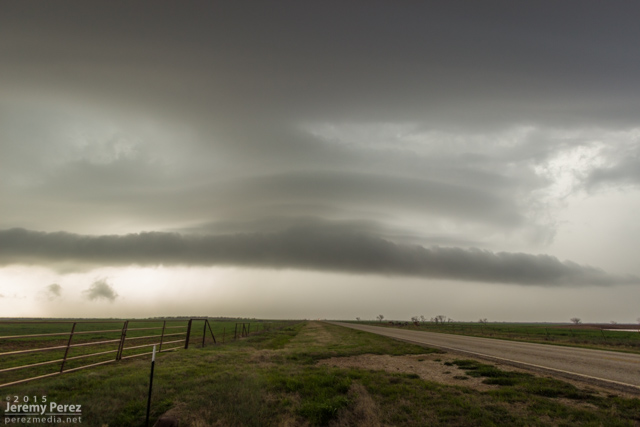 Heading south, I wondered why truck traffic was backed up. Turns out a chaser had a yellow vehicle parked partway into the southbound lane and placing his body even further into the lane. So the trucks were waiting their turn to safely pull into the opposing lane to get around him as he waved people around. There were plenty of great pull-offs on this road—I used a couple of them. And the grass shoulder was huge and in good shape too, so there was no reason for treating the shoulder and pull out areas like hot lava. It was really really frustrating and embarrassing. I needed to get ahead of the gust front and didn't have time stop and attempt a chaser-101 session, or get a good read of the decals on the vehicle.
Chaser obstruction — 2249Z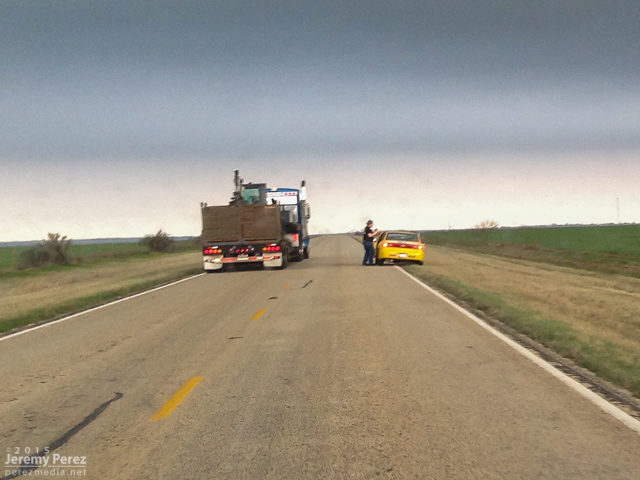 The storm was pretty strung out at this point but still dishing out some interesting sights. We got further east to Holliday and noticed a bell shaped lowering. It appeared to be a new updraft trying to forming well to the east of the base I had been watching, and it had what appeared to be a bit of RFD curling in and lowering a wall cloud/RFD shelf around itself before gusting out and merging with the forward flank.
Transient updraft/lowering seen west of Holliday — 2305Z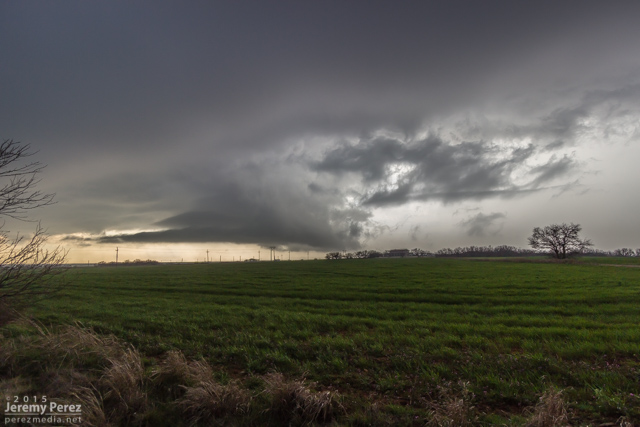 After that, we bailed out on the storm and headed south for some views of the other storm as it approached Bowie. We got a look at the back of the storm and its upswept flanking line before calling that one off too in some beautiful country.
Backside view of the other storm approaching Bowie — 2349Z