The beautiful, isolated Kansas LP cell a couple days earlier had me excited to witness more explosive development on March 16th. MLCAPE values from 2000-2500 j/kg were forecast along the dryline in western Texas with the cap opening up by mid afternoon. With a mid-level impulse yielding up to 50 kts of bulk shear, mid-level lapse rates approaching 8.5 c/km, and directional shear supportive of rotating updrafts, it looked like severe storms were on tap with large hail, and a slight tornado risk as the LLJ strengthened by early evening.
HRRR suggested two areas for convection to break out--near Lubbock and south of Midland. The reflectivity forecast hinted at the southern target being choked off soon after forming, so with a bit of relief at the shorter drive, I targeted the dryline in the vicinity of Lubbock.
As we neared Post, TX, storms were firing along the dryline, and a strong cell south of Midland had gotten the attention of the SPC as severe watch areas went up from southwest Texas to western Oklahoma. Storms near Lubbock were looking good to me, and we targeted a cell that was essentially moving over Lubbock--it soon picked up a severe warning. As we paced the storm and watched it develop while keeping the rental car out of the hail, the storm started to develop inflow bands and what looked like a bobbed beaver tail.
Panorama of severe warned storm near Lubbock, Texas


Rain-free base struggles to get organized while Giselle looks on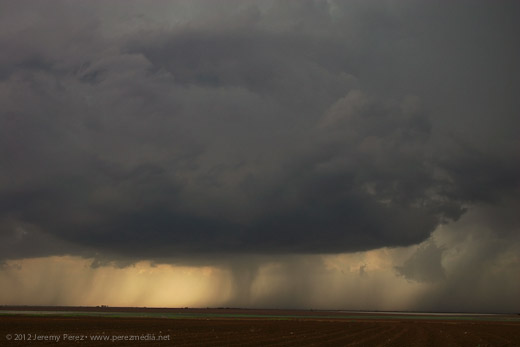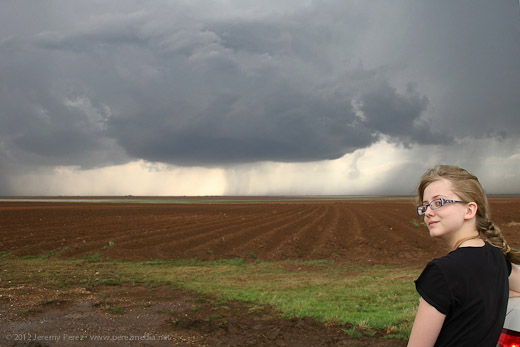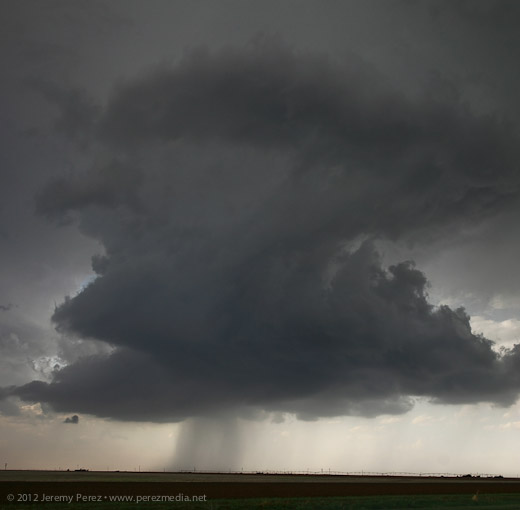 Before long though, a flurry of developing storms west and southwest of our storm began interfering with it and with each other until the whole mess essentially disintegrated. The remains of dissolving storms still present great photo opportunities, and we made a few stops on the way back to Elk City to take in the pleasant views.
Another storm with a sturdy inflow tail chokes off our original cell's inflow


Dissipating storms paint the sky for our drive back to Elk City