Next month, we'll be doing some rock hounding in Iron County, Utah. When we were there last year, we spent just a couple hours at some mine dumps west of Cedar City and found some great specimens...several of these turned out to be fluorescent under a standard black light (long wave UV). Since I really want to track down some more of these awesome rocks, I ordered a couple portable UV lamps to bring with us. The first one arrived a few days ago--a 4 watt short wave UV lamp. I hadn't seen any of our collection under short wave UV yet, so I got busy shining it on everything we had. I was excited to see that this lamp nearly doubled the number of fluorescents we have--and some of them are stunning!
A four watt lamp is very low power, but it's enough to examine things (and was all I could afford for the time being). I won't be able to stalk around after dark and shine it on a massive hill of mine tailings and see anything, but it works well enough that I should be able to throw a black tarp over myself and get in close to see if anything lights up.
Here are the photos of our current fluorescent collection. It contains rocks from the Comstock Mine Dump, Iron County, UT; Chalcedony from Brian Head, UT; Rocks from north of La Madera, NM; Petrified Wood from Hurricane Mesa, UT; and some small, bright red specimens from south of Cleator, AZ. Click to view larger versions of the images (the larger ones are better).
Click this link to view large rollover graphic showing all 3 images aligned (550K).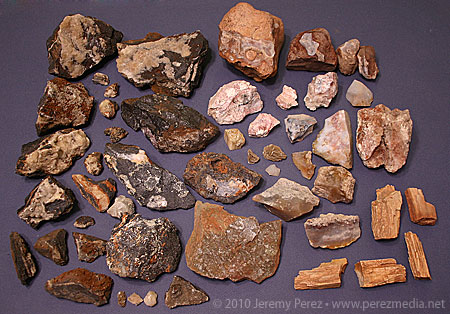 White Light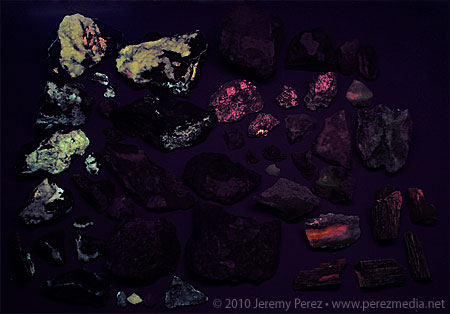 Long Wave Ultraviolet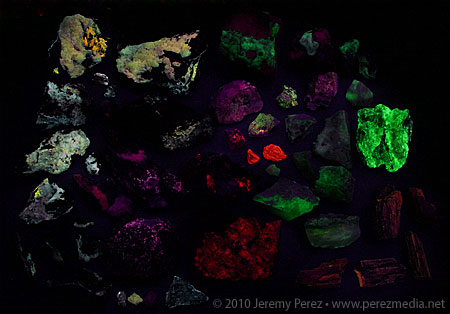 Short Wave Ultraviolet