Chase Target: Litchfield, Minnesota
A surface low migrates from northeast Neblaska to southwest Minnesota. A dryline/cold front drapes from east Iowa through central Kansas and western Oklahoma / central Texal with dew points into the mid 60s in the warm sector. CAPE reaches 2500 j/kg near the triple point through the northwest half of Iowa and southern Minnesota while moving rapidly northward into central Minnesota as the cold front works on occluding the surface low.
The upper trough lifts a 60 kt mid level speed max over the dryline/coldfront/surface low. Bulk shear over the northern two-thirds of this boundary starts at 60 kts at midday and drops to 40-50 kts by evening. 0-1km SRH hits 150 m2/s2 east of the surface boundary and over 200 m2/s2 to the north and northeast of the surface low.
Maximized EHI follows this position from far northeast Nebraska at 18Z to northwest Iowa by 21Z and southeast Minnesota by 00Z with 21Z having the greatest potential, but too strongly capped. Reflectivity forecast shows triple-point storms firing by 00Z in south-central Minnesota with large open hodographs, and marks my target area.
Results
Nearest Tornado Report: 38 Miles South-southeast
Nearest Severe Report: 19 Miles South-southwest [1.5 Inch Hail]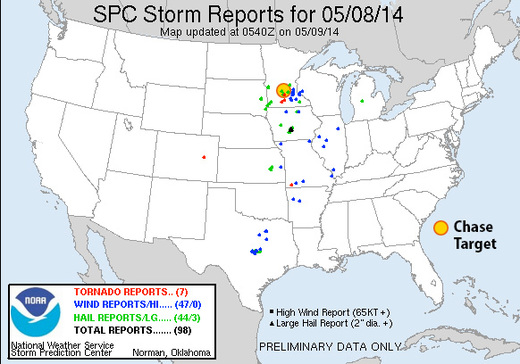 The warm front did not lift as far north as I anticipated from yesterday's model runs. However, a couple supercells managed to take advantage of low level helicity along the warm front south of my target area and did produce tornadoes. One of those reports was 38 miles to the south-southeast of Litchfield.