Chase Target: Odessa, Missouri
At 21Z a surface trough will stretch from North Dakota to northeast Kansas, migrating slowly southeast. A cold front will drape from the Nebraska/Iowa border, across east Kansas and into northwest Oklahoma where it transitions to a dryline southward across west Texas. Mid to possibly upper 60 dewpoints will be pushing northward into northern Missouri on 15-20 kt surface winds. As convection fires from 18Z-21Z, MLCAPE values could reach 3000 j/kg east of the front, with NAM aggressively plotting 4000 j/kg in west-central Missouri.
Mid/upper level support takes the form of only slightly amplified flow with pockets of 40 kts at 500 mb across the central plains and into the midwest. The warm sector appears to get its best support across the northeastern three-fourths of Missouri with 50 knots of bulk shear over northwest and north central parts of the state. 0-1km SRH reaches 150 m2/s2 over the northwest quadrant of Missouri as well by 00Z.
NAM forecasts convection firing in this better zone by 21Z with open, clockwise forecast hodographs showing up in both NAM and GFS. Lid Strength Index opens a brief opportunity for surface based storms in the 21Z time frame in this northwest Missouri as well, so placing my target at Odessa, east of Kansas City.
Results
Nearest Tornado Report: 16 Miles North-northeast
Nearest Severe Report: Same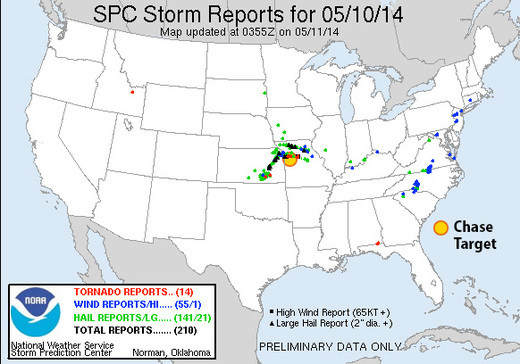 Numerous severe storms erupted along the cold front and dryline around 20Z with a few supercells turning right and strengthening. The one that passed just north of Odessa generated a few tornado reports—the nearest 16 miles to the north-northeast.