Chase Target: Ashland, Nebraska
A trough over the rockies places 50kt H5 flow from the Texas/Oklahoma Panhandles through Kansas, Nebraska and Iowa by midday. The trough tightens over the afternoon, weakening flow across Iowa to just the extreme southwest part of the state.
A surface low over western Kansas drapes a sharp dryline southward across far east border of the Texas Panhandle and southward from there. At midday, a cold front lines up from the central Kansas/Nebraska border through southwest Iowa and then a warm front up to northeast Iowa. By 00Z, the boundaries have advanced across northeast Nebraska and northern Iowa. East and south of the dryline/cold front/warm front, CAPE values reach or exceed 3000 j/kg by 21Z. LCLs will be rising throughout the warm sector throughout the day, but the southeast Nebraska and southern Iowa have best opportunity to remain at or below 1000 m through 00Z. After that, they lower to 500-750 m across Iowa.
0-1km SRH gets over 100 m2/s2 on the warm side of the boundary, and spiking over 300 m2/s2 immediately on the other side. Hodographs along the warm front have huge, open, clockwise hodographs. Pretty scary actually. Southeast Nebraska at 21Z shows 0-1km EHI over 3 while Iowa waits until 00Z to reach that level. NAM convective forecast puts discrete cells and then ongoing convection in southeast Nebraska as well.
Results
Nearest Tornado Report: 10.9 Miles Northwest
Nearest Severe Report: 9 Miles West [Wind: 60 MPH]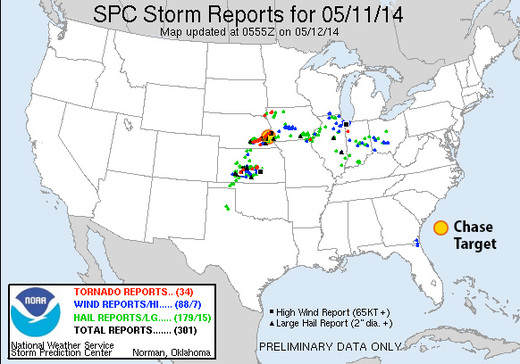 A monster supercell erupted in south-central Nebraska and tracked east-northeast along the warm front north of Lincoln, and then north of my target of Ashland before moving into Omaha. It was a long track tornado producer, with the closest tornado report being 10.9 miles northwest of Ashland. A scattering of other tornado reports came from far southeast and far northeast Iowa/far southeast South Dakota, as well as a few from a dryline storm in central Kansas. Hoping no one was hurt by these.