I chased some stunning high-based storms with brief supercell structure in southern Arizona earlier this week.
A trough moving in from California was forecast to take on a negative tilt as it drifted into Arizona. Dynamics would be favorable for severe storms with 40-50 kts of shear, positive vorticity around the base of the trough, and some chances for winds sufficiently veering with height to support multicell and weak supercell structure. The SPC forecaster commented that the NAM was handling parameters nicely, so I gave it more attention for my initial plan than the RUC and GFS. It forecast a tongue of modest instability (500-750 j/kg MLCAPE) moving eastward from Yuma through the central deserts and then lava-lamping a blob of CAPE northward through the Phoenix area by late afternoon/evening.
I was initially tempted to head west, toward Kingman that morning. Ongoing convection associated with another field of instability was being spurred by a streak of upper air support. It didn't help that Flagstaff NWS was discussing the remote possibility of an isolated tornado for the northern Arizona forecast area. The Phoenix forecast for southern Arizona conceded the possibility of brief supercell structures, but didn't go so far as to leave the tornado possibility on the table. Still, the best combination of instability and jet streak dynamics seemed poised to effect southern Arizona more favorably than elsewhere. I also wanted to play in some terrain that had better visibility. So that's where I headed. I planned my first stop for Wickenberg to sidle closer to the front and then have a good road option to the southeast as I watched how convection developed.
By 10:30AM as I was nearing Cordes Junction I could see storms already blossoming south of Wickenburg along the cold front. I chastised myself for getting a late start and possibly missing an early show. But better dynamics were still hours away, so I pushed the frustration aside. As I approached Wickenburg along Rt. 74, a gap in the hills allowed a brief birds-eye view of one of the early storms pushing out an arcing ring of dust--one of many I'd get to sample through the day.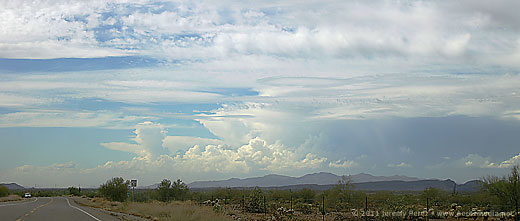 As I sat at the intersection of Rt. 74 and 60 checking radar and satellite, I was dodging ongoing feelings of self-doubt. Convection in northwest Arizona was doing very well for so early in the day while storms popping up in southwest Arizona were blooming and dying in short order, shooting thin anvils eastward in spurts. I was starting to worry that the atmosphere was going to get tapped of whatever available moisture there was, and the show in the north might be the only real play for the day. Still, I decided that as long as I was part-way there, I might as well commit the rest of the way to my southern target. So I cruised the rest of the way past Laveen, and south of South Mountain. Along the way, the storms pulsing along the cold front were really starting to push the dirt around. Much of my drive south ran me right through the diffuse wall of a dusty gust front.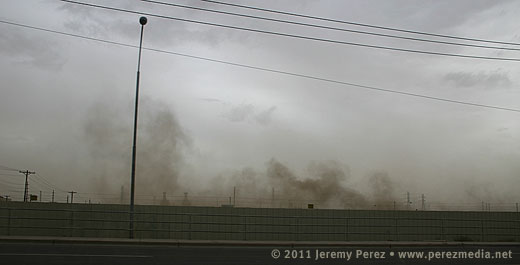 I parked the car off the road in the scrubby wastes northeast of Estrella Mountain (appears to be a perfect spot for disposing of contraband and bodies) and watched the merging arcs of dust pushed westward. A strong storm peeling away from Ajo dissipated as it approached and ran into a sad capping problem that was centered pretty much over my head. I held onto hope that the cap would erode as the dust cleared out and the surface heated back up. But the surrounding environment continued to be harsh on convection. One sad little cell pushed up over the mountain, but then faded into a mist.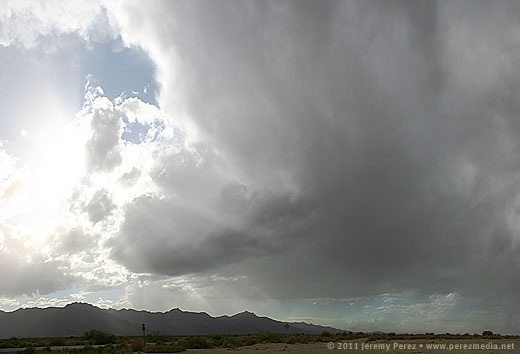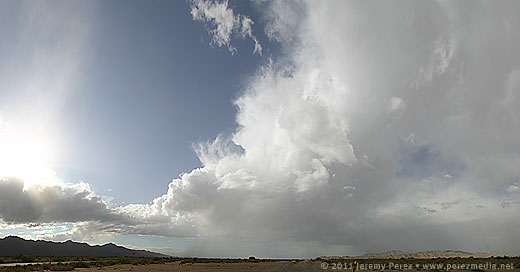 Another batch of convection brewed back up over Ajo and then split as it moved over Interstate 8. The right mover looked really good, and I quickly headed south toward Maricopa to intercept it. As I rounded the east side of Estrella Mountain, I could see the dark core of the storm pushing up against the ridge. I soon caught a glimpse of the rain free base and a distinct lowering. Maricopa Road was thick with 75 mph rush-hour traffic, and I had a challenge finding a place to pull off safely. Casa Blanca Rd. did the trick. Although the storm had dwindled to a fraction of its former bulk, it still had a very nice show to put on. I spent the next several minutes photographing and filming a beautiful wall cloud being sculpted out of the storm's base.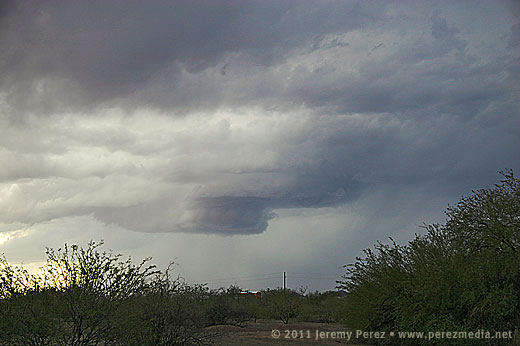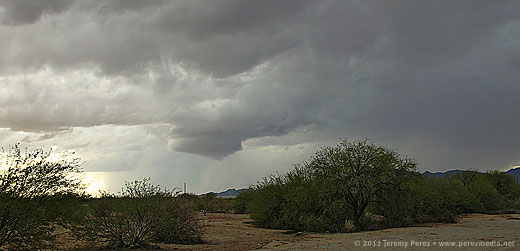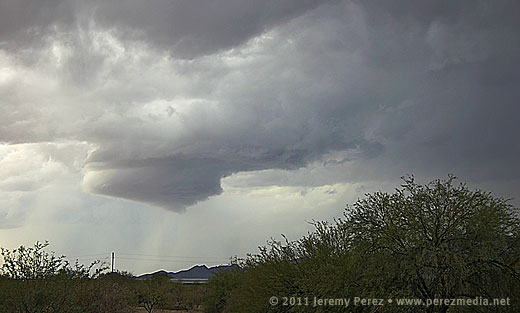 After dropping into a nice, morphing cylinder, with a bit of RFD cascading down its south edge, it merged back into the base for a few minutes. As the storm moved further north, the base tightened up into a stunning barber pole with another, furry wall trying to form beneath.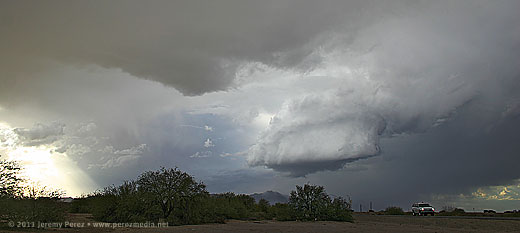 By this time, another cell to my south started raining on me and feeding my target storm some cool, misty air. As I rushed northward to to get out of the rain, the storm base began to erode into a tattered claw, painted across a dusty, desert landscape. I hated not having a good place to pull over and capture the amazing sight to my left. To make the best of it, I rolled down the window, and snapped several uncomposed shots while concentrating on the road ahead of me, hoping one or two of them would frame it nicely. Fortunately that worked, and I came away with a couple in that series that I actually liked.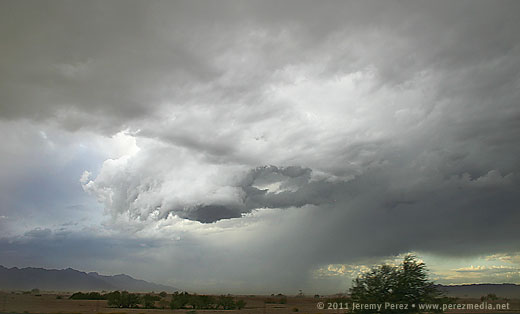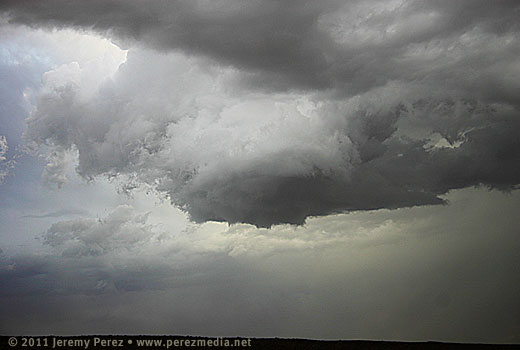 Before leaving that morning, I tried to sober myself with some rough odds:
80% chance of seeing some storms.
30% chance of getting a good look at a severe or otherwise interesting storm
10% chance of intercepting a storm with supercell structure
5% chance of a wall cloud
<1% chance of seeing a funnel or better
Four out of five's not bad, I figure! I was pretty happy with how things went as I spent the next 160 miles driving back up the mountain in pouring rain. Although the Maricopa storm possessed some key elements, I'm not sure I would call it a supercell--maybe a 'marginal' or 'brief' supercell. After reviewing the time lapse video, it did show rotation in the updraft, but it was not vigorous and had a very small radar signature by the time I intercepted it. In hindsight, I think that outflow from the earlier convection was what was killing the storms that I hoped would "come to me". I should have taken the extra driving hit and headed further south to Interstate 8 to catch a more pure fetch of moist southerly air where the convection was happier.
Taking a queue from Skip Talbot--
Lessons Learned
Don't let the early show distract you from the main play for the day.
Do factor in the atmospheric consequences of the early show when positioning for the main play.
Clean dust off my camera's sensor--cleaning the blobs out of the images later is a pain in the rear.
Southern Arizona has better chase terrain and visibility than the mountains of northern Arizona...but the road network still stinks compared to the plains.
Invest in a swatch of black velvet for the dashboard. Positioning the video camera on a huge, dark jacket to hide dashboard-window reflections is an obnoxious balancing act.
Blindly shooting photos out the side window can actually work if you have no other options.
Even at low speed, cruise control on my car is a force of evil when it encounters flooded highway ruts.
September/October in Arizona is my new second-chance chase season.