I woke up on day 4 ready for an awesome day chasing some powerful storms across Kansas. Hopes dashed: a quick check of satellite showed something had gone wrong. A huge MCS was moving northeast out of the panhandles and raining all over everything. The forecast for an explosive day took a nosedive and the south-Kansas target was getting washed away with cool, cloud-covered stability. There was a chance that all the elevated convection would move out in time for the sun to warm it back up and try for a recovery, but it was looking pretty slim. I bailed out of the grunge hotel and hung out at a gas station refreshing satellite, forecast models and SPC analysis. Some chasers were hoping for an earlier recovery in southwest Oklahoma while others were hanging tight for renewed hopes in southern Kansas.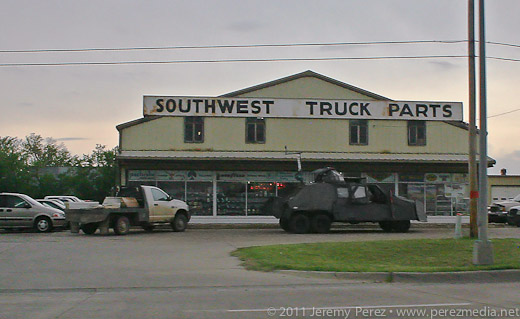 Just across the street from the grunge hotel, the TIV team scavenges for parts.
Gradually, the MCS moved out and clear skies started to edge in from the west. At the same time, I noticed that new convection in north Texas was sending huge, dense anvils racing northward just in time to block out the sun again. That was all I needed to see. My forecast area was toast. I headed west toward Dodge City to look for a opportunities closer to the surface low and in clear air. By the time I reached Dodge CIty, the SPC had posted a tornado watch discussion for northwest Kansas. The dryline was sticking out like a sore thumb from my position and on northward, but the cirrus canopy was hugging right along its eastern edge. So I got on Route 23 and took off for northwest Kansas. As I made my way north, a check of the rear view mirror showed new convection popping up right over Dodge City and looked like it was reaching for the ground and trying to get surface based. I almost turned around to give it a shot, but that cirrus deck was heavy and I figured the storm was going to have a horrible fetch of inflow. So I kept hauling north.
As I got closer to I-70, I could see storms to the north along the stationary/warm front beginning to go up. And here I was approaching from the south again. One of these days, I figure I'll position myself to not be playing catch up. Spending 15 minutes with stop-sign guy on a one lane stretch of road construction, waiting for the pilot car was a time of great sadness and anxiety. Somehow I still managed to catch up with a decent severe-warned storm on Highway 83 south of Oberlin. I was on the wrong side, and it was outflow dominant, but it was still the best thing I had intercepted the entire trip. I caught sight of an interesting lowering behind the rain curtains, but it didn't go any further than that before gusting out in a spectacular torrent of ragged scud and spindled shear vortices. I followed its remains past Oberlin where I caught the beautifully lit sight of another cell to the southeast. Radar show it to be weakening, so I decided to head north then east and sample its core.


Panorama of convection looking north along Highway 83 in NW Kansas.


Very wide panorama of severe-warned cell south of Oberlin, Kansas.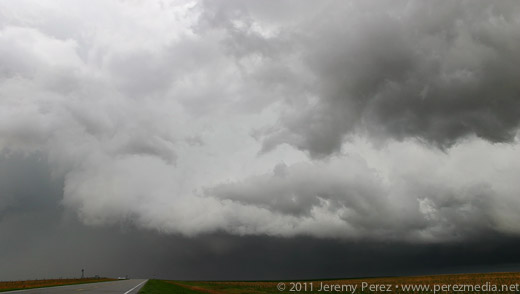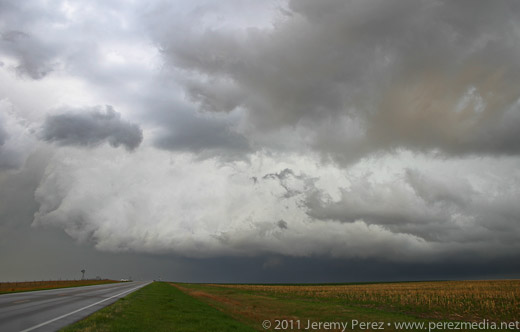 Rain free base with tantalizing lowering.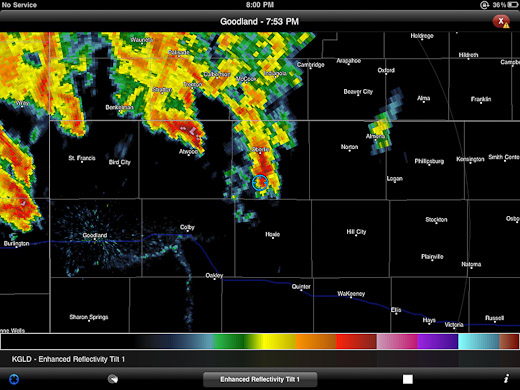 Enhanced reflectivity view of the Oberlin storm.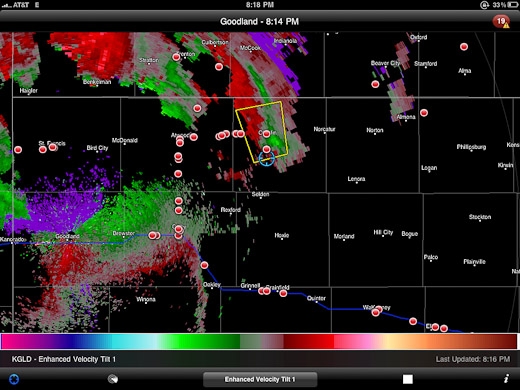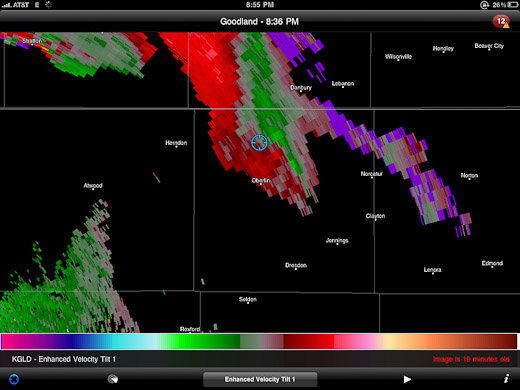 Velocity scan showing broad rotation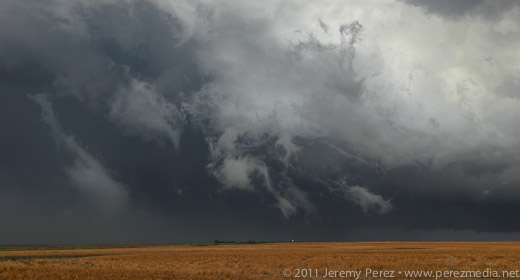 Tattered scud and shear vortices twist and fray as the Oberlin storm gusts out.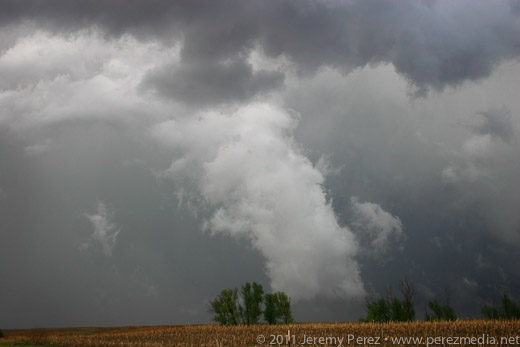 Nicely sculpted pillar of scud flows along the gust front.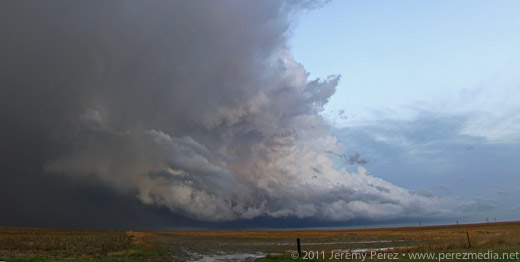 Dwindling light reveals another dying cell to the southeast.
Time lapse video of the day's chase. Click through to YouTube to view in HD.
As I drove through the blinding rain, I noticed a car riding my tail. If they want to go play Hydroplane-on-the-Highway, I figured that's their business. So I pulled off the side and motioned them to pass. Instead they pulled alongside and told me I better hurry since the worst was headed this way. I hollered over the pounding rain, that yes, thank you, I know, but that I wasn't willing to drive as fast as them. So off they went. A couple more miles got me out of the core, and a great view of another nice lightning display on a dark Nebraska road with the frogs and crickets jamming away into the night.

The last of the convection moves north, flickering with lightning as night descends.
I eventually made my way back down to Highway 36 and west to just beyond the Colorado border. I pulled off on a dirt road and caught bursts of sleep while the surface low spun overhead entertaining and distracting me with bursts of rain and lightning all night long.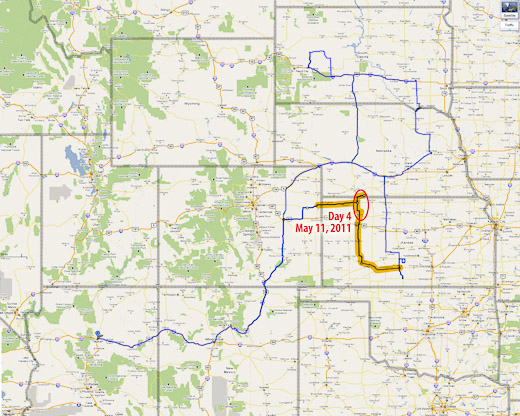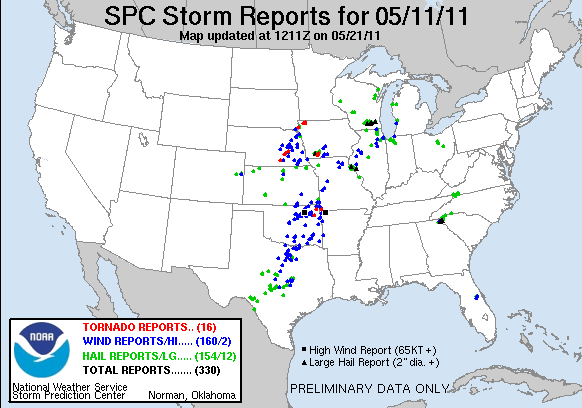 Lessons Learned:

Even the best setups can be demolished by situations that the forecast models didn't anticipate.
I made a good call abandoning the southern target when I did. The early convection and continued cloud cover destroyed all hope for that area. I'm also happy with making the decision to not go after the Dodge City cell. The cirrus canopy strangled it and it died out soon after.
There's always next year...
Day 1 - MAY 8, 2011 - Night Storms in South Dakota
Day 2 - MAY 9, 2011 - Anticipating Initiation in South Dakota
Day 3 - MAY 10, 2011 - Positioning Practice in Kansas
Day 4 - MAY 11, 2011 - Tough Decisions in Kansas