My second chase day started with the sun's warm rays piercing broken clouds above a nearby farm. I slept a little later than I wanted, but had plenty of time jump on I-90 and head west toward Murdo where I waited for signs of initiation along points further west. This setup was difficult to forecast. The best moisture/instability/shear was wrapping north and northeast of the surface low, north of the warm front. I had a hard time picking the best spot for storm initiation and was really hoping visual cues and satellite would point me toward development with enough time to adjust and intercept.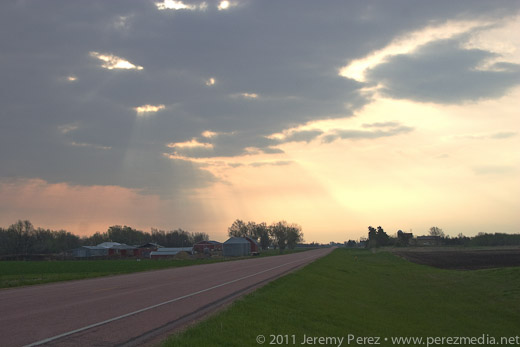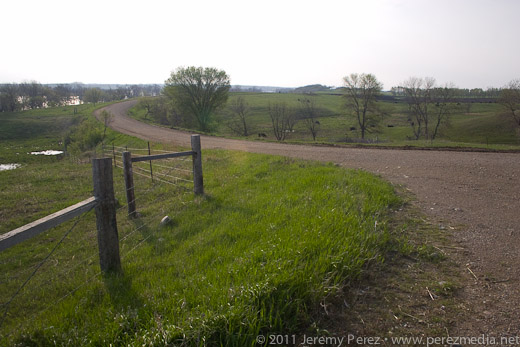 I wasn't the only one in Murdo watching the sky and refreshing satellite views and SPC observations. The Dominator crew and about a hundred other chasers were parked in various hotel and gas station parking lots hanging out, scarfing convenience store food, throwing frisbees, scrubbing windshields, jaywalking, and checking out each other's chase vehicles. I was concerned that the best, first storm would collect an instant caravan and I wanted to get out before that happened. Turns out this wouldn't be the problem. As I headed further west, the sky grew heavy with fast moving stratocumulus. It was frustrating to realize that I was going to have a terrible time visually spotting points of storm initiation.
Eventually, northbound radar returns started to pop up along I-90, east of Rapid City as well as a nice, tornado-warned cell far to the south near Crawford Nebraska. I started to drive south, thinking I could intercept the Nebraska storm somewhere near Wounded Knee. But then I second guessed myself and figured that I'd probably make this long drive through the badlands with difficult terrain and bad road options and the storm would be past its prime by the time I intercepted. So I headed back north of I-90 and traded one set of bad road options for another. I was positioned right at the southern end of several developing radar returns and finally caught a glimpse of one of the new towers to my east. To my north: wet gravel roads. I thought, ok, let's try these roads out and see if I can get ahead of the development and intercept around from the northwest.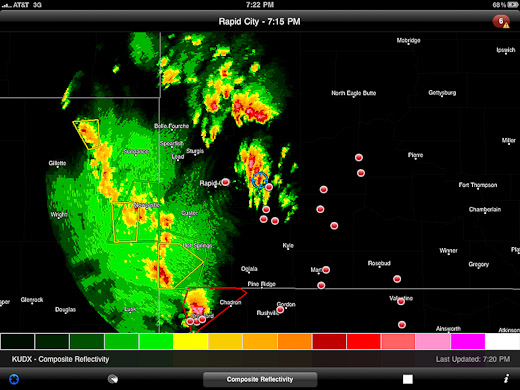 Developing radar returns just before I began my long drive north to try and intercept the pick of the litter. (My location is shown by the blue target.)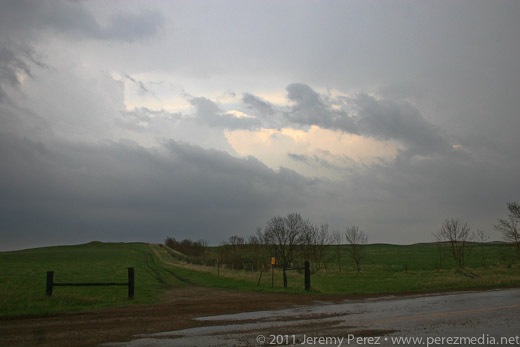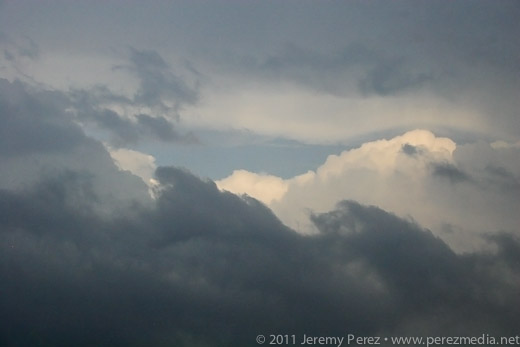 Rough Kelvin-Helmholtz clouds forming in a nicely sheared environment.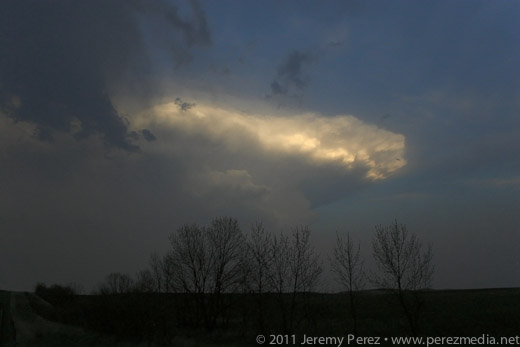 A sunlit anvil blossoms to the east of my position.
My Honda Civic and the wet South Dakota dirt roads played nicely with each other. However, what with the Belle Fourche River Valley, majorly broken road grid, and wet dirt-gravel surface, I was no match for the storm motions. It didn't take long to realize that I wasn't going to intercept any of the storms I thought I would. So I plotted a path to hit Route 34, then Route 73 and work my way back toward I-90 and see if any new development would head my way.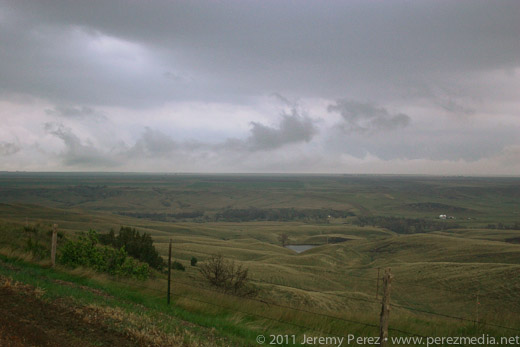 Stunning overlook of the Belle Fourche River Valley.
It took forever to get back to a paved road, and night had fallen by the time I hit asphalt again. As I made my way back east, then south, severe and tornado-warned storms lit up the sky to the north and east. I was frustrated that I had failed so miserably at positioning myself, but the non-stop lightning show was a beautiful parting gift as I drifted along the lonely South Dakota highways.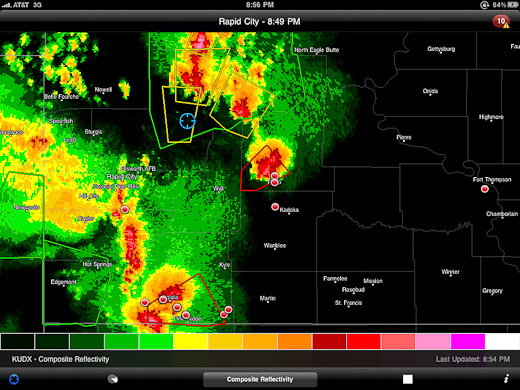 Severe and tornado warned cells avoid my chosen route.
I parked for a few hours of sleep near Kadoka, SD, where the drizzling remains of the tornado-producing Crawford storm finally passed overhead and drifted off into the flickering night.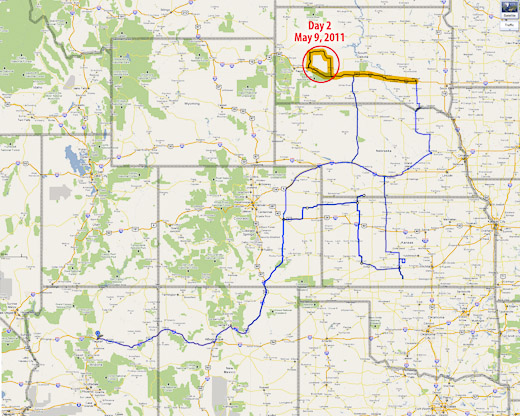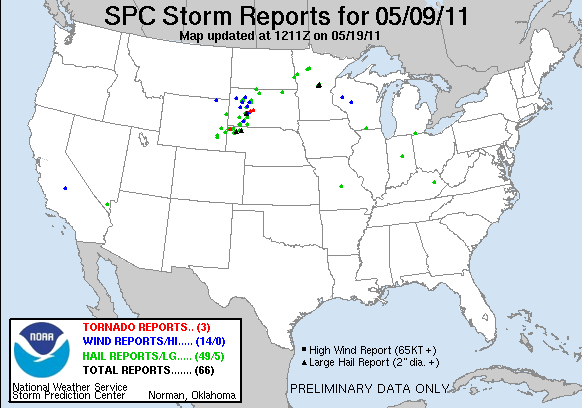 Lessons Learned:

If dirt roads are the only way to intercept a target already to my north, and there is a good possibility of a southern target, opt for the southern target.
Committing to a long, unpaved route in an area that is not fully gridded is probably a one-shot deal.
The Honda is compatible with at least some of the wet, unpaved roads in southwest South Dakota--although copiously wet would probably be a different story.
Setups where the target area is north of the surface low are a serious weakness for me to anticipate development.
South Dakota is a beautiful place to chase.
Day 1 - MAY 8, 2011 - Night Storms in South Dakota
Day 2 - MAY 9, 2011 - Anticipating Initiation in South Dakota
Day 3 - MAY 10, 2011 - Positioning Practice in Kansas