Chase Target: Big Lake, Texas
A weak surface trough is forecast to meander along the west Texas Panhandle/eastern New Mexico with a dryline forming east of this feature, drifting slightly eastward during the afternoon, and then sharpening and retreating westward after sundown. My target area is at the northern edge of 500mb short wave energy, along the dryline with bulk shear from 40-50 kts. I was looking for a spot where sufficient shear overlaps the dryline and better forecast CAPE values near 1500 j/kg as dew points reach 55-60°F. Better 0-1km helicity resides further east, but does not correspond with best instability until after sundown. As the LLJ increases after 00Z, a chance for better lower level winds may produce a limited tornado threat in this area with NAM forecasting convection where 0-1km EHI increases over 1.00.
Results:
Nearest Tornado Report: 243 miles NNE
Nearest Severe Report: 234 miles NNE [2.75 Inch Hail]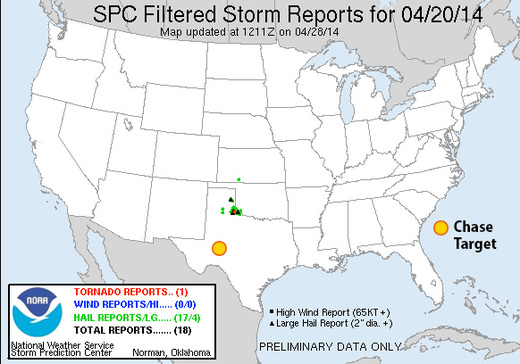 No severe reports within a hundred miles of my target. A couple severe-warned storms went up in the area, but failed to produce anything worth reporting. A very nice supercell did go up further north near Childress, TX, and brought in loads of hail and wind reports, along with a brief tornado. I didn't have that area pegged as having enough bulk shear, but it looks like it managed to pull it off. Meanwhile, further south where upper levels looked better, my first guess is that there wasn't enough low level convergence to fire and sustain storms, as well as the first half of the day being dominated by a stratus layer that took too long to burn off.