Chase Target: Kilmichael, Mississippi
The closed upper low over eastern Kansas/Nebraska won't have moved much in 24 hours. The surface low is pretty closely stacked at the Nebraska/Iowa border with a cold front/dryline arcing along eastern Missouri, Arkansas and Louisiana. Organized convection is forecast (per NAM) to start firing up around 15Z along the western Mississippi border. CAPE grows toward 2000+ j/kg ahead of this convection, better the further south you go, but capping appears to be a challenge and may prevent surface based convection. Upper air support is in good shape, at 60 kts early on. There is no standout location to me, other than staying north of heavier capping, but still south enough enough to find better instability. Forecast reflectivity and precipitation is a mess and difficult to interpret. SRH gets better as the day goes on, so trying to position a bit further east to give the line of storms time to take advantage of that. Once again, not an area i would chase, and definitely a setup I'm even less comfortable forecasting a chase target.
[Edit/Update 1745Z:] This morning, HRRR was forecasting 2 rounds of convection moving through Mississippi at 18Z and 23Z. Watching radar at 1730Z that first round is definitely firing up. There has been clearing ahead of it and surface heating underway. In particular, a serious looking cell erupting near Indianola. If I were chasing in this crazy terrain, I would be heading north to meet it near Grenada. And then there's round to toward late afternoon. Hoping people are considering locations of shelters and listening to weather alert radio or TV!
[Edit/Update 1900Z:] A string of several tornado warned supercells have formed from north-central through west central Mississippi. Really hazardous situation. With 40-50 mph storm motions to the east-northeast, I would probably have had opportunity to briefly pace two or three of the northern storms along SR 8 and 9, north of my Kilmichael target then down to Euporea and Hwy 82 before letting the line pass.
[Edit/Update 1940Z:] Kilmichael is now in the direct path of the velocity couplet of a tornado-warned cell. Really hope folks are getting to shelter. I would likely make my way west on Hwy 82 and be ready to fly back east as it crosses the highway, and prepared for it to turn right with a south escape at Stewart.
Results:
Nearest Tornado Report: 8 Miles North-northeast
Nearest Severe Report: Same
A lot of strong, isolated supercells across Mississippi today with several communities hit. One of the early, northern cells I was tracking did generate a couple tornado reports just north of Kilmichael.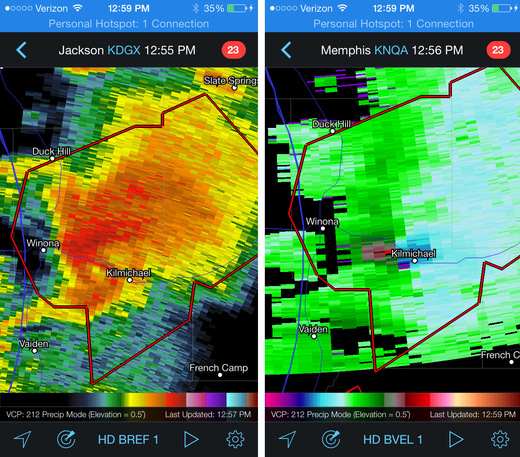 Another long track tornado 38 miles to the southeast generated 5 reports before winding up in Louisville. Unclear if that's the same one that ended up in Columbus later in the afternoon/evening.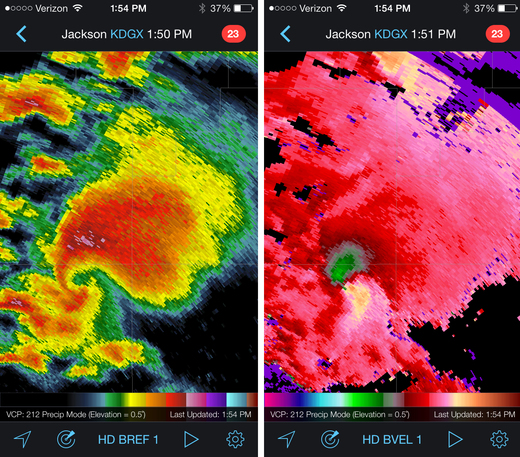 The radar presentation of three of the supercells over the center of the state by midday was unbelievable.