Chase Target: Newington, Georgia
A surface low is forecast to elongate over Wisconsin and Ohio with a cold front draping through eastern Tennessee through the Florida panhandle and migrating slowly eastward. The upper low will be over Iowa with 70 kt 500 mb flow flow aligned over cold front with 35-40 kts extending out over the warm sector to the east leading to 35-40 kts of bulk shear in that area.
Dewpoints from 65-70 will be in place from Florida through east Virginia. NAM and GFS paint different pictures of early convection/cloud cover/surface heating and subsequent CAPE values. If GFS pans out, 2000 j/kg CAPE will build from the Florida panhandle through central Georgia and South Carolina. If NAM pans out, some smaller pockets of 2000 j/kg will build along coastal Georgia/far south South Carolina. RAP so far looks like it's splitting the difference between NAM and GFS on the situation.
00Z NAM paints large pockets of 100-150 m2/s2 0-1km SRH through central Georgia and more broadly north of there, reaching over 200 m2/s2 from western North Carolina and Virginia. Timing of the convection is variable across the models, could take the form discrete storms, a line, a broken line, a boggy mess. The best compromise of moderate CAPE, SRH, and bulk shear seems to be at the Georgia/South Carolina border close to the coast.
[Edit 1500Z:] Oh man...there goes my forecast area again, immersed in another MCS outflow & anvil festival. I may pull the plug on the chase case opp in the next hour.
[Edit 1530Z:] Alright, I'm going to leave my target in place and let the chips fall where they may. Current satellite trend looks like anvil cover is thinning gradually, and radar appears to show the MCS being progressive, instead of squatting over one area like yesterday. Probably wishful thinking, but maybe there will be enough clearing for the airmass to recover. Or maybe I'll see a random wind report.
Results:
Nearest Tornado Report: None
Nearest Severe Report: 198 Miles Northeast [Wind Report]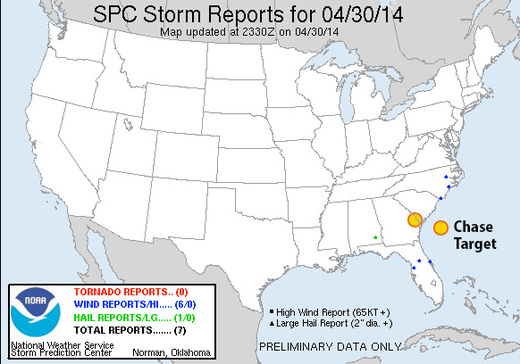 MCS Forecast Botch #2. Between today, yesterday, and my 2011 experience, this is definitely a weakness for me. What do I look for to say, yeah—the models aren't picking up that today's storms are going to get comfy and build a cold, wet nest all over tomorrow's boundary layer? It doesn't just put a hole in the setup where you can drive a couple hours and be out of it—the stable blanket lays over multiple states, and may just be a situation of deciding to start the long drive home the night before if you know it's going to pan out that way. Research.