Taking a Great Plains storm chase trip is something I've wanted to do for a long time. For the past couple years, I've been learning and practicing severe weather forecasting, and running some real-time virtual chases, but nothing can compare to getting on the road and actually doing it. So as May approached, I started keeping my eyes peeled for a good weekend setup.
Over the weekend of May 15/16, I noticed conditions favorable for severe weather might be shaping up for the following weekend, May 22/23. Low pressure was forecast to set up over the western US and spend several days sending impulses along very moist air across the central US. Upper air support, speed and directional shear all looked like they would provide support for tornadic supercells in varying locations.
As the week progressed, the GFS and eventually NAM forecast models continued to confirm this set-up, while timing and locations fluctuated from day to day. I got the o.k. to take Friday and Monday as vacation days, and planned to head for the Colorado/Wyoming/Nebraska borders on Friday, South Dakota/Nebraska on Saturday, and somewhere along the dryline from Nebraska to Oklahoma on Sunday. To get the best chance for current data on the road, I activated wireless broadband access with Verizon and got my forecast, satellite and radar links set up on the MacBook.
Giselle said she would like to join me, and the two of us took off Thursday night for what turned out to be a fantastic road trip. She ran the laptop and shot video so I could drive and snag photos.
Isn't that dangerous?
This is probably a good place to mention a few things about storm chasing and risks. I am not a big risk taker, but I'm not a shut-in either. Any time you set foot outside your door to enjoy some recreation, you face a spectrum of risk. Just strapping yourself into a car and hitting the road to take the kids to school seriously increases your odds of being injured or worse. How much hairier it gets obviously depends on how you approach what you're doing.
Because storm chasing is an unusual activity, the perception of danger can seem chilling. A tornadic storm is a dangerous beast. Increasingly, the media and Youtube have shown us that there are plenty of folks who either like the rush of going right up to the edge, intentionally counting coup with a tornado or who feel confident racing in front of it for good position and clear views. That is not the kind of experience I was after. I missed getting a clearer view of the Bowdle, SD tornado, and probably some interesting nighttime structure in Kansas because I wanted to keep my distance from the meso and it's intended path and because I wanted a nicely paved escape route and plenty of time to take it if the storm managed to make a 90 or 120 degree turn.
That's not to say I think the risk is zero, or that I would be immune from making a mistake, but the same is true of a lot of other outdoor activities that that take you away from your cozy living room and place you in the midst of the amazing natural world. I believe that by educating yourself and approaching the storms cautiously, it is possible to keep those risks to an acceptable level and to witness something that's truly awe-inspiring.
Click the links below for photos, video and details from each day: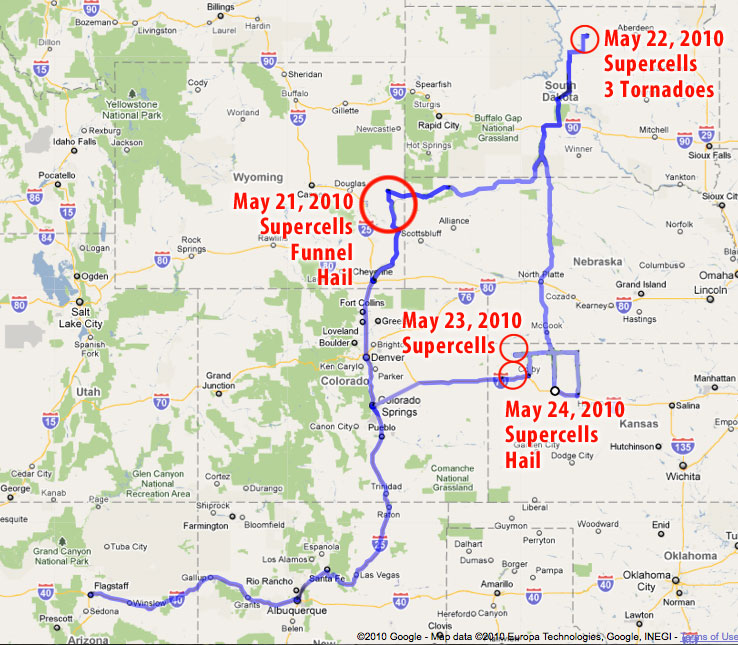 Chase Vacation Reports