So this update is kind of late for the 2017 season, but I wanted to get it out there anyway. This adds info for the remainder of the western and eastern US. I also got permission from the Reddit user WestCoastBestCoast94 to include the road image he generated, so that underlayer has been included. This mostly shows up as gray patchiness at lower resolutions.
The map is based on my visual assessment of the road network. So there's a fair amount of subjectivity in there. At a variety of points, I'm positive people could find things that aren't spot on. Texas was questionable in a lot of places, because of how often the road grid there is rotated 45°. At available resolution I couldn't visually tell if those networks were truly gridded or not, so they got knocked down in quality due to uncertainty. Mainly, I tried to err on the side of pessimism if I couldn't tell for sure how well gridded the network was.
Despite that, I've been pretty satisfied with how it's held up in areas where I've chased. The area in northwest Oklahoma/Barber County Kansas definitely checks out as sketchy. There are some tough road choices too in the less networked area in north Texas along the Red River; but then some pretty decent zones in the Mississippi flood plain. The map gave me confidence with a setup that looked like it could produce in that flood plain and I caught a tornado near Grady, Arkansas last year because of it. Some day, North Dakota shall call, and I will answer. Original detailed discussion about the map and process for creating it is found here: 2015 US Storm Chase Map Project
Links to high-res versions are included with the low-res images below:
US Storm Chase Map - with forested areas
1600 x 1067px | 1920 x 1280px | 3840 x 2560px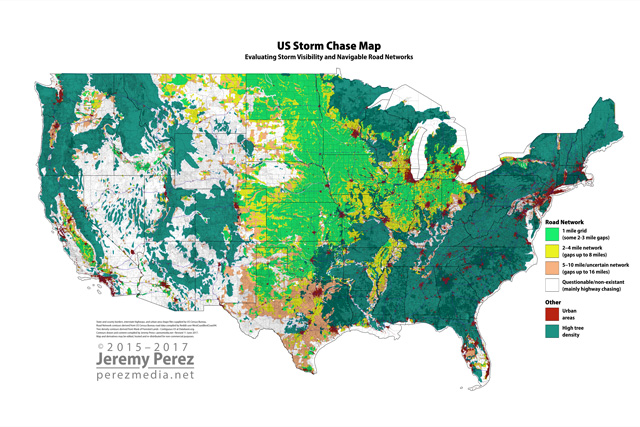 US Storm Chase Map - without forested areas
1600 x 1067px | 1920 x 1280px | 3840 x 2560px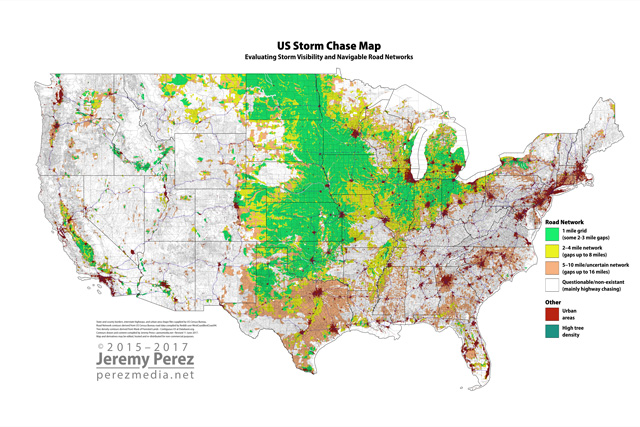 The maps may be distributed/reposted for non-commercial purposes. Please preserve the watermark, and I'd be grateful a link back to this site if possible. If you would like a full-resolution copy (13,500px x 9,000px), please get in touch at the email address in the header of this page.