When it comes to tallying tornado sightings, I've landed on two categories -- legit tornadoes and technical tornadoes. Those latter ones come up when I scour and enhance my video and still photos later, pair them up with confirmed tornado reports and imagery and notice that I managed to catch either funnel or debris in my footage. I've also lumped in a couple cases where I've spotted funnels that I suspected at the time I was seeing them, but wrote them off, only to find out later they actually had been tornadic. These are three from this past chase season.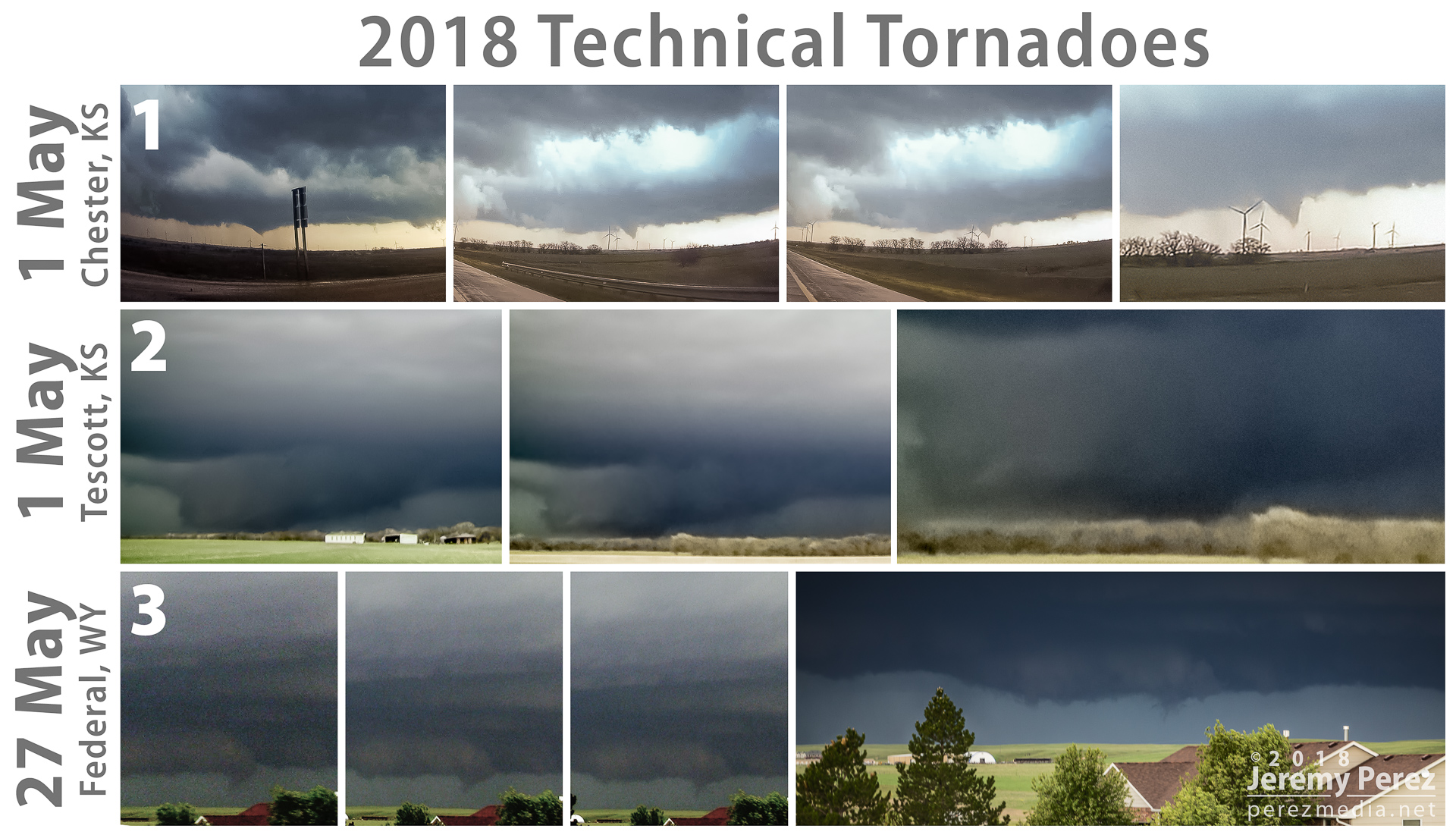 May 1: Chester, KS tornado
I picked up the funnel for a couple minutes on the dash cam without realizing it. In the moment, I was more concerned with staying out of the hook as we cruised down I-70 and wasn't noticing the new circulation handing off further east. Only after seeing the report and checking vs. my time stamps did I notice it on the video.
May 1: Tescott, KS tornado
I was in a great spot to see at least the first minute or so of this one if I had just waited. But I got anxious that the storm was going to get away from us and wanted to get in a better intercept location near Bennington. So I wound up jumping back on I-70 about 30-60 seconds before it touched down. I had my window-mounted video camera recording the wall cloud, but the hills were way more of an issue than I realized they'd be. I got a few frames where the dark edges of the wedge were visible between hills, beneath the wall cloud.
May 27: Federal, WY tornado
Just after catching a beautiful rope tornado north of Cheyenne, I was about to reposition when I noticed the new wall cloud had a fang dropping down on its leading edge. I started tearing cameras out of the car and got crooked video of it just as it was at its pointiest, and a still photo just as it was degenerating. I figured it was probably just a scary looking scud tag at the time and disregarded it. Reports, photos and time stamp comparisons later identified it as being tornadic.
With those, my count for 2018 is:
3 tornado days
8 legit tornadoes
3 technical tornadoes :)
I've also got a what-the-heck-nado from May 2nd, but that's a story for another time.