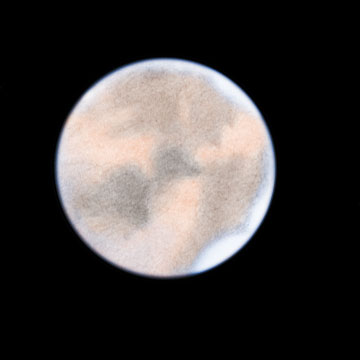 Move mouse over image to view labels.
East and West noted in the sketch are Martian E/W, not celestial E/W.
Observation Notes:
During the first half of this observation, the sky was reasonably clear, but the scope was still cooling down. A bit later, when the seeing began to improve, a thin smear of horizon-to-horizon clouds moved in. Everything got very muddy. Bah! I was hunting for evidence of a dust storm moving south out of Chryse. I think I spotted a notch it might have taken out of Aurorae Sinus. The North Polar Hood was very evident and notched.
Subject
Mars - Central Meridian: 60°
Classification
Planet
Position*
Taurus [RA: 03:08:03 / Dec: +16:24:43]
Size*
20.12" (Equatorial diameter)
Brightness*
-2.2
Date/Time
October 21, 2005 - 12:30 AM to 1:30 AM
(October 21, 2005 - 07:30 to 08:30 UT)
Observing Loc.
Flagstaff, AZ - Home
Instrument
Orion SVP 6LT Reflector (150 mm dia./1200 mm F/L)
Eyepieces/Mag.
10 mm Sirius Plössl+ 2X Barlow (240X)
Filters
#21A Orange, #80A Blue
Conditions
High thin cloud layer, cool
Seeing
Ant. III
Transparency
Unmeasured, but basically horrible
*Sources
Orion's The Sky Astronomy Software