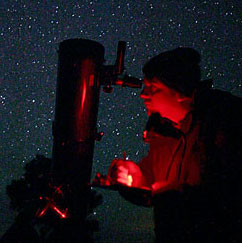 I live in Flagstaff, Arizona (USA) where my wife and I have raised our family and where I work as an art director. I've been interested in astronomy since I was a kid growing up under the light-polluted skies of Phoenix. I made my first rough astronomical sketches in the '80s while tracking Jupiter's moons with binoculars.
One evening during the summer of 2004, ten years after moving to Flagstaff, we had a lengthy power failure. So we went outside with the kids, laid down on the driveway and feasted on the fat, marbled, summer Milky Way. With all the lights out on our side of town, it was magnificent beyond words. And it was peaceful. Quiet. Dark. Beautiful. I was deeply moved and felt that I really needed to explore this spectacle and see with my own eyes what I had been fascinated by for so long. After living mere minutes from some of the darkest skies in the country for ten years, it seemed like it was about time.
I invested in my first telescope, a 6-inch (150 mm) Equatorial Newtonian, and got busy exploring the night sky every chance I could. My early research online encouraged me to be sure I documented my observations to better appreciate these marvelous objects, to track my progress in detecting them, and to simply keep records of my experiences. Several astronomy resources encouraged not just note-taking, but sketching. I decided to give it a try, and quickly realized that the process greatly helped my ability to pick out details. I started to see each object not just as another splash of stars or lump of mist, but as unique marvels, rich with personality and detail waiting to be extracted by a patient eye. I also realized that I actually enjoyed trying to accurately capture the visual impression of those wondrous forms on paper. And that's what I've been working on since then, and one of the rewarding aspects of amateur astronomy that I hope to convey on this site.
Along the way, I've had the privilege of collaborating with a number of other skilled observers and astronomical sketchers to co-author or contribute to astronomical sketching topics in the books listed at the top of the sidebar on this page. I currently write and illustrate a column on astronomical sketching for Astronomy Now and provide sketches to Astronomy Now (UK), Astronomy Magazine (US), Sky and Telescope, and a few other publications.
The experience of standing beneath a clear, dark sky is sublime. Besides sketching, it inspires me to try capturing the experience with nightscape photos that combine the sky's grandeur with the locale. So, if astrophotography is more your style, I keep a growing collection of those nightscape and other astronomical photography at the sites listed below.
SmugMug
(Prints available)
Nightscapes Album
|
General Astronomy Album
|
Full Gallery
Flickr
Nightscapes Album
|
General Astronomy Album
|
Current Photostream
Instagram
JPerezMedia
I hope you enjoy the site,
Jeremy Perez