Bio Page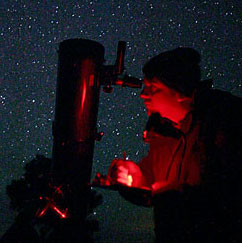 Hi, you've arrived at the bio page for Jeremy Perez. I work as a graphic artist in Flagstaff, Arizona (USA). I've been a designer and artist for print media since 1990. Technical and artistic illustration are facets of the job I find most rewarding. I can't get enough of those sort of projects. Which is where amateur astronomy ended up providing a bit of an outlet.
I've had an armchair interest in astronomy since I was a kid growing up in good old light-polluted Phoenix Arizona. I did manage to break out some tiny binoculars to follow and sketch the changing position of Jupiter's moons for a while in high school, and spot Halley's Comet with binoculars in 1986.
During the summer of 2004, ten years after moving to Flagstaff, we had a lengthy power failure one evening. So, my wife, two kids and I went outside, laid down on the driveway and feasted on the fat, marbled, summer Milky Way. With all the lights out on our side of town, it was magnificent beyond words. And it was peaceful. Quiet. Dark. Beautiful. I couldn't stand it. I felt that I really needed to explore this spectacle and see with my own eyes what I had been reading about for so long. And after living mere minutes from some of the darkest skies in the country for ten years, it seemed like it was about time.
After investing in my 6-inch (150 mm) Equatorial Newtonian, I got busy exploring the night sky every chance I could. Loads of online research had encouraged me to be sure I documented my observations as a means of learning how to see these marvelous objects, to track my progress in detecting them, and to just keep them for general posterity. A number of astro websites I landed on encouraged not just note-taking, but sketching. I decided to give it a try, and began with very casual, almost scribbled drawings of the first Messier objects I encountered. At first, those sketches helped me to confirm that I had indeed spotted the right object, and I was happy with that. After a few observations though, I realized that the process really was helping my ability to pick out details. I started to see each object not just as another splash of stars or lump of mist, but as unique marvels, rich with personality and detail waiting to be extracted by a patient eye. I also realized that I might actually enjoy trying to accurately capture the visual impression of those wondrous forms on paper. And so I do. That's what I've been working on since then, and what I hope to convey on this site, along with the joy of simply seeing the wonders of the heavens and learning just what those distant objects are.
I enjoyed working with four other amateur astronomers/sketchers to co-author a book published in May 2007:
Astronomical Sketching: A Step-by-Step Introduction
(Patrick Moore's Practical Astronomy Series)
(published by Springer).
Some of my material is featured periodically in a few astronomy journals and other publications. I'm trying to keep an updated list here: Published Material
I hope you enjoy the site,
Jeremy Perez