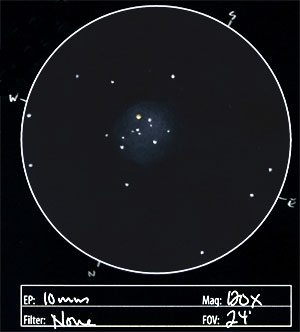 Observation Notes: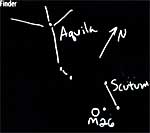 This cluster didn't jump out at me. It was a hazy smudge at first glance in the 25 mm eyepiece. I took the magnification up to 120X and that helped me to see more stars. Seeing and transparency were very poor, and the rest of the cluster took the form of an unresolved, smooth, circular haze. The brighter stars formed an elongated diamond pointing southwest to northeast.
Factoids:
According to Burnham, this cluster contains 25 stars visible in 6-8 inch scopes...indicating I was really hurt by light pollution and seeing, what with making only 8 or resolved stars. It lies about 5,000 light years away and is about 22 light years in diameter. Its age is estimated at 89 million years by Sky Catalogue 2000.0. Its Trumpler classification is listed variously as II2r (Trumpler), II3m (Götz), and I1m (Sky Catalog 2000).
M26 was discovered by Charles Messier in 1764.
Subject
M26 (NGC 6694)
Classification
Open Cluster (Type f)
Position*
Scutum [RA: 18:45:12 / Dec: -09:24:00]
Size*
15.0'
Brightness*
8.0
Date/Time
October 21, 2005 - 8:30 PM
(October 22, 2005 - 03:30 UT)
Observing Loc.
Flagstaff, AZ - Home
Instrument
Orion SVP 6LT Reflector (150 mm dia./1200 mm F/L)
Eyepieces/Mag.
10 mm (120X)
Conditions
Clear, calm, 55°F
Seeing
3/10 Pickering
Transparency
Mag 4.7 NELM (based on 4-Sagittarius)
Sources
SEDS
*Based on published data.