Move mouse over image to see labels.
Observation Notes: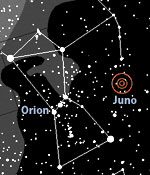 This was my first attempt ever at an asteroid observation. I tried finding 3 Juno based on the data supplied in Orion's TheSky software, and I hunted in vain. I checked the data at the Minor Planet Ephemeris Service and it seems the Juno data in TheSky is off by more than 1 degree. Anyway, after star hopping to the new coordinates, a bright 'star' showed up in the spot Juno should occupy. It was just north of a line drawn between 6.25 magnitude SAO131625 and 9.21 magnitude SAO131652 and about 75% of the distance from '625 to '652. It was bracketed in brightness by these two stars also, and I estimated it at 8th magnitude. The ephemeris noted a magnitude of 7.8 (woo!). The first position sketched at 05:15 UT is about RA 04:58:40 / Dec. -00:58:20. I checked back 3 and a half hours later and found it had moved slightly northwest. This second position marked at 08:45 UT was about RA 04:58:35 / Dec. -00:57:30.
I was surprised at how bright the asteroid was. I'll be hunting down others as the opportunity presents itself. I'll just have to rely on the Minor Planet Ephemeris Service for accurate positions.
Factoids:
Asteroid 3 Juno was discovered by Karl L. Harding on September 1, 1804. It is one of the largest main belt asteroids and is 'S-Type', which means it is composed of nickel-iron, iron, and magnesium silicates, and is highly reflective. Imaging from the Hooker Telescope in 2003 reveals that Juno has an irregular, potato-like shape, and possesses a 100 km diameter crater that occurred relatively recently. Spectroscopic analysis suggests that Juno could be the source of stony meteorites known as chondrites which are composed of olivine and pyroxene.
Subject
3 Juno
Classification
Main Belt Asteroid
Position*
Orion: Position 1: [RA: ~ 04:58:40 / Dec: ~ -00:58:20]
Position 2: [RA: ~ 04:58:35 / Dec: ~ -00:57:30]
Apparent Size*
N/A
Brightness*
7.8 Vmag
Diameter*
240 km
Mass*
20,000 x 1015 kg
Rotational Period*
7.21 hrs
Orbital Period*
4.36 yrs
Date/Time
Position 1: December 30, 2005 - 05:15 UT
Position 2: December 30, 2005 - 08:45 UT
Observing Loc.
Flagstaff, AZ - Home
Instrument
Orion SVP 6LT Reflector (150 mm dia./1200 mm F/L)
Eyepieces/Mag.
25 mm Sirius Plössl (48X)
Conditions
Clear, calm
Seeing
3-4/10 Pickering
Transparency
Mag 6.0+ (SAO 112206)
Sources
NASA Asteroid Fact Sheet, Answer.com
* Based on published data.