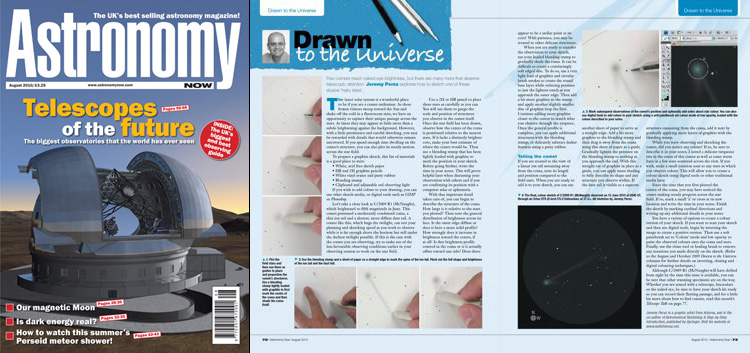 Bright comet C/2009 R1 (McNaught) is the subject of this month's column. We look at graphite techniques for sketching a comet, and optional digital colorizing of the coma.
Subject:
C/2009 R1 (McNaught)
Issue:
August 2010 Astronomy Now
Basic Media:
Graphite and Charcoal on White Paper
Featured Technique:
Using graphite and blending stump to sketch the main comet features: coma, condensation, ion tail and dust tail. Finishing with the digital addition of color to the coma using Adobe Photoshop.
Suggested Materials:

White acid-free drawing paper
HB and 2H graphite pencils
White vinyl eraser pencil and putty rubber
Blending stump
Clipboard and adjustable red observing light
If you wish to add colour to your drawing, you can use other sketch media, or digital tools such as GIMP or Photoshop.