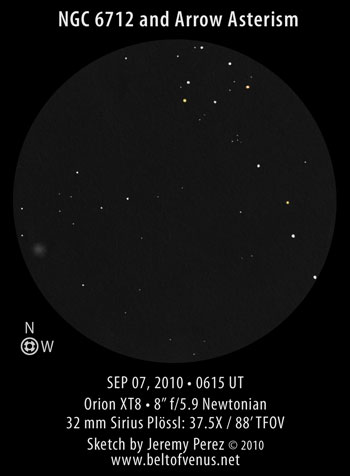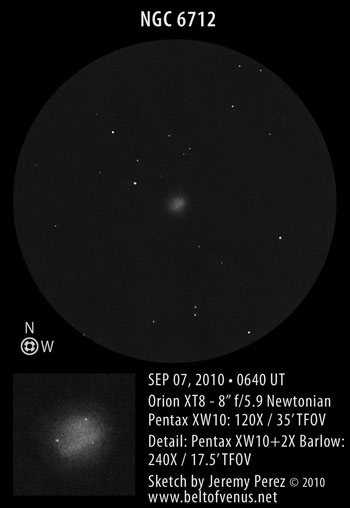 Observation Notes:

This fascinating globular cluster lies in a rich Milky Way field. Through 15 x 70 binoculars, it can be seen as a faintly enhanced area in the Milky Way, next to two 9th magnitude stars. It shares the stunning binocular view with brilliant Messier 11 and an arrow-shaped asterism of 7th, 8th and 9th magnitude stars that points northeastward along the Milky Way, almost urging you to continue gazing upward.
This arrow asterism is still readily apparent in the low power telescopic view with my 32 mm Plossl. By nudging the arrow to the western edge of the 1.4 degree-wide view, NGC 6712 can be paired with it. At 120X through the Pentax XW10, it appear to be on the verge of partially resolving with an almost granular flicker that the seeing wouldn't allow to improve. At 240X, the subtle flickering of faint stars was a bit easier to detect, with one star on the east side being the most persistent. It appeared to be about 2 arc minutes in diameter with a structure that was somewhat mottled. There was a noticeably brighter clump on its west-northwest quadrant, and overall, it was not quite circular--appearing to be strangely cut off on its south-southwestern edge.
If you look this one up, don't be satisfied to see it as a mildly condensed haze. Give it a nice, close look and see if you can pick up some of its interesting irregularities. Then back out to low power or view it in binoculars and enjoy the rich surroundings.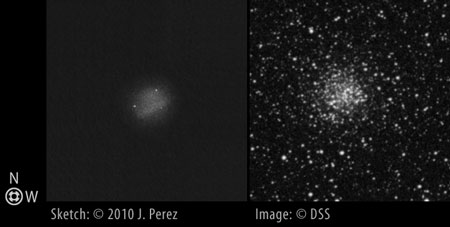 Subject
NGC 6712
Other Desig.
AO 1850-08, C 1850-087, CSI-08-18503, GC 4441, GCL 103, GCRV 11335, H I-47, h 3762, OCl 72.0
Classification
Globular Cluster (IX)
Position*
Scutum: [RA: 18 53 04.32 / Dec: -08 42 21.5]
Size
7.2'
Brightness*
8.7 vMag; 9.9 bMag
Date/Time
SEP 06, 2010, 11:15 PM MST
(SEP 07, 2010, 0615 UT)
Observing Loc.
Home - Flagstaff, Arizona, USA
Instrument
SkyQuest XT8 (8 inch f/5.9 Dobsonian)
Eyepieces/Mag.
32 mm Sirius Plossl (37.5X); Pentax XW10 (120X); Pentax XW10+2X Barlow (240X)
Conditions
Clear, light breeze
Seeing
5/10 Pickering
Transparency
SQM 20.3
*Sources
SIMBAD; DSS; NGC/IC Project