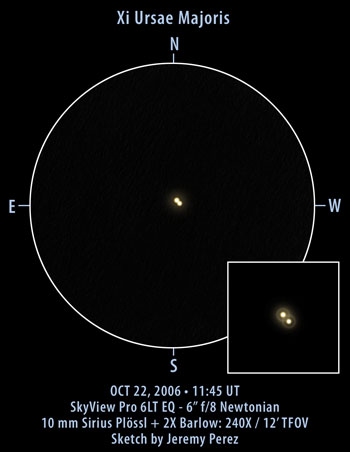 Observation Notes:
This close double consisted of two yellow-orange stars very close in brightness. The northeast component was brightest, and both stars were close to riding each other's first diffraction rings. That would put their separation somewhere between one and two arcseconds. PA was about 235 degrees. Roughly extrapolating from the orbital predictions listed in Burnham's Celestial Handbook, the PA should be about 240 degrees with a separation of about 1.9 arcseconds.
According to Burnham, this double was found by Sir William Herschel in May 1780. In 1804, it was announced as a physically associated pair after a PA change of 59 degrees was noted. It was the first double to have its orbit computed by M. Savary in 1828. According to T. Rakowiecki, it's period was computed in 1938 to be 59.74 years, with periastron in 1935. This is also one of the nearest binaries to the Solar System, at 26 light years distant.
Subject
Xi Ursae Majoris (STF 1523)
Classification
Double Star
Position (J2000)
[RA: 11:18:11 / Dec: +31:31:46]*
Position Angle*
40.3° (1991)
292.1° (1997)
~240° (2006)
Separation*
.99" (1991)
1.68" (1997)
~1.9" (2006)
Magnitudes*
A = 4.4; B = 4.9
Spectral Types*
A = G0; B = G0
Date/Time
OCT 22, 2006 - 04:45 AM MST (OCT 22, 2006 - 11:45 UT)
Observing Loc.
Cinder Hills Overlook, Sunset Crater National Monument, AZ
Instrument
Orion SVP 6LT Reflector (150 mm dia./1200 mm F/L)
Eyepieces/Mag.
10 mm + 2X Barlow (240X)
Conditions
Clear, calm
Seeing
5/10
Transparency
NELM Mag 6.8+
References
The Washington Visual Double Star Catalog, 1996.0 (Worley+, 1996), Tycho Double Star Catalogue (TDSC) (Fabricius+ 2002), Double stars measurements (Alzner 1998) via VizieR, and Burnham's Celestial Handbook (Vol. 3)
*Based on published data.