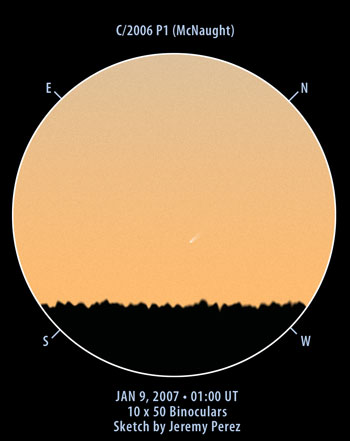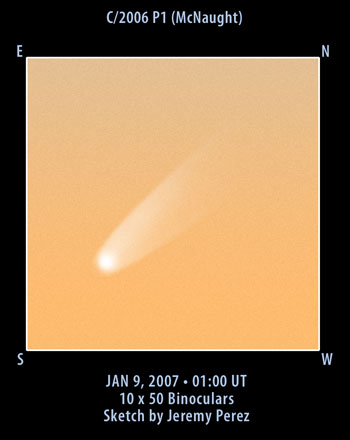 Observation Notes
A couple unsuccessful attempts to view this comet from home at sunrise and sunset the last couple days, lead me to drive up to Switzer Mesa after work today for a better horizon. Finding the comet was not easy in the sherbet orange twilight. I scanned the horizon for about ten minutes with my 10 x 50 binoculars before finally spotting it. Once spotted, it seemed very obvious. A frightfully cold wind, and the fact I didn't bring my tripod mount for the binoculars meant I wasn't getting the steadiest views propping them against the car. It was still a beautiful sight.
The coma was soft-edged with a broad profile of luminosity. The tail fanned gracefully away from the blunt, parabolic nose, fading away what I estimated to be about a half degree from the coma. The tail seemed brightest along its eastern edge with a brighter core to the tail that favored the eastern half of the fan. I wasn't equipped for a proper sketch, and time was very short, so I made a contour diagram and reproduced it digitally in Adobe Photoshop at home using the diagram as a reference.
While I was observing it, my cell phone rang, and Bill Ferris was on the other end asking what I was up to. "I'm out at Switzer Mesa, freezing my butt off, checking out this comet," I told him. He mentioned he was seeing the coma naked eye, and asked if I had tried it. I gave it a shot, but couldn't pick it out. After hanging up, I got my stargazing glasses and gave it another try. With the glasses on, it showed up very subtly near the ragged line of trees along the horizon. I also grabbed a few shots with my camera and managed to pick out the comet in four of the images. The best one--which still isn't great--is shown below. Hover your mouse over the image to show a contrast-enhanced version.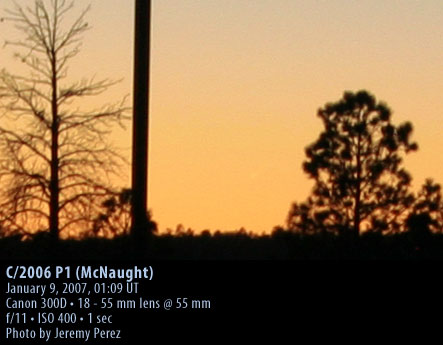 br>
Move mouse over image to view contrast-enhanced version.
Subject
C/2006 P1 (McNaught)
Classification
Comet
Position*
Aquila:
01:00 UT - [RA: 19:24:17.9 / Dec: -09:06:53]
Size
Tail: ~.5°
Brightness
~ -1 vMag
Date/Time
January 8, 2007 - 6:00 PM MST
(January 9, 2007 - 01:00 UT)
Observing Loc.
Switzer Mesa - Flagstaff, AZ
Instrument
10 x 50 Binoculars
Eyepieces/Mag.
-
Conditions
Clear, breezy
Seeing
-
Transparency
~ Mag 1.0 + NELM
*Sources
Starry Nights Pro Plus v. 5.8, Aerith.net