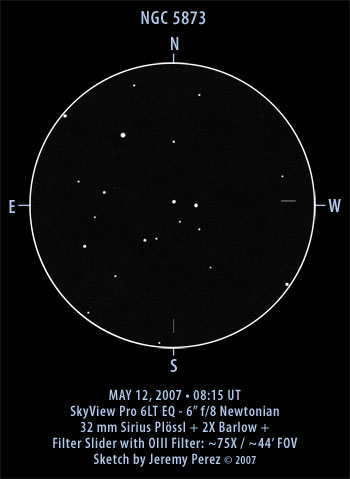 Move mouse over sketch to simulate sliding in the OIII filter.
Observation Notes:

I got my first look at this diminutive planetary nebula through Eric Graff's 6" f/6 reflector. He was using a filter slider with an OIII filter in one slot. By sliding the filter in and out, it was possible to see which "star" was actually the nebula. He let me borrow the filter and slider so I could make a sketch at my scope. The star at the center of the sketch (also noted by hash marks) is the planetary nebula. Moving your mouse over the sketch will simulate the blinking effect. It looked like the nebula may have exhibited some dimension, but the seeing wasn't the greatest, so I couldn't be sure.
Object Information

NGC 5873 was discovered by Ralph Copeland in 1883.
NGC 5873 is also catalogued as PK331+16.1, ESO 328-PN034
Subject
NGC 5873
Classification
Planetary Nebula (2)
Position*
Lupus [RA: 15:12:50.73 / Dec: -38:07:32.9]
Size*
.22' (13")
Brightness*
11.0 vMag / 13.3 bMag
Date/Time
May 12, 2007 - 01:15 AM
(May 12, 2007 - 08:15 UT)
Observing Loc.
Cinder Hills Overlook, Sunset Crater National Monument, AZ
Instrument
Orion SVP 6LT Reflector (150 mm dia./1200 mm F/L)
Eyepieces/Mag.
32 mm + 2X Barlow + Filter Slider with OIII Filter (~75X)
Conditions
Mostly clear, breezy
Seeing
4/10
Transparency
~ Mag 6.8 NELM
*Sources
NGC/IC Project
*Based on published data.