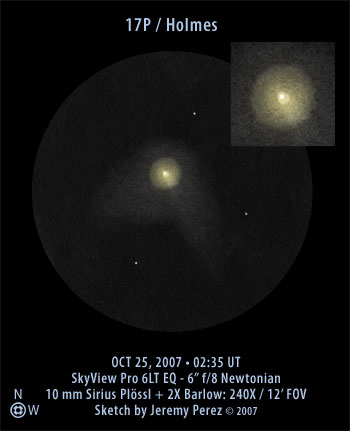 Move mouse over sketch above to view labels. Click image for larger version.
Observation Notes:

Have you ever seen a golden comet? The thought had never occurred to me--until tonight.
Earlier today, reports started arriving that observers in Asia had noted an extraordinary outburst in periodic comet 17P / Holmes. It had gone from 18th magnitude to 8th magnitude when it was first noticed. Within hours, it had became a naked-eye comet at 3rd magnitude and was still brightening. Observers were initially reporting a stellar object with a yellow or golden color. I was interested to have a look at a 'stellar' comet and start tracking it's motion through Perseus. What I got was so much better.
After photographing an overhead pass of the International Space Station followed by the Space Shuttle...and a failed attempt to re-acquire C/2007 F1 (LONEOS), I got ready to check out 17P / Holmes. It was easily visible to the naked eye despite the moonlit sky. Through my 6 inch Newtonian, it was shockingly beautiful. It was not stellar at all. It looked like a wonderfully bright planetary nebula--a golden-yellow planetary nebula! I bumped up the magnification to 120X and it looked even better. It begged for more, so I gave it 240X and settled in for a nice long look. There was a very strong, almost stellar central condensation. Outside of this was another bright condensed shell about 6 arc seconds in diameter, but elongated away from the center at a PA of about 210 degrees (southwest). Further outward was another shell that was roughly circular, about 1 arc minute in diameter, with a distinct outer boundary. Outside of this was a faint, hazy outer halo about 2 arc minutes in diameter that had a broad extension at a PA of about 120 degrees (east-southeast)...perhaps this is a developing dust tail? There was also a sharper extension that matched up with the direction of the inner condensation at 210 degrees and extended about 4 arc minutes...maybe a developing ion tail?
I'm getting ready to go back outside and make some follow-up observations, sketches, and hopefully a couple photographs. I had no idea I'd get to witness something like this less than a year after the unique display put on by C/2006 P1 (McNaught). My daughter even got in on the observing and made her own sketch of the comet through our new 8 inch Dob while I worked on it through my trusty 6 inch scope. More to come!
---
Update October 25, 2007 - 4:00 AM
After posting this report, I went back out and shot some photos of the area. Below is a stack of 5 2-minute exposures. Move your mouse over the image to see labels and click the image for a larger version. The golden color of the comet is apparent in the image -- to which I applied no color enhancement, only contrast, dark subtraction and sharpening.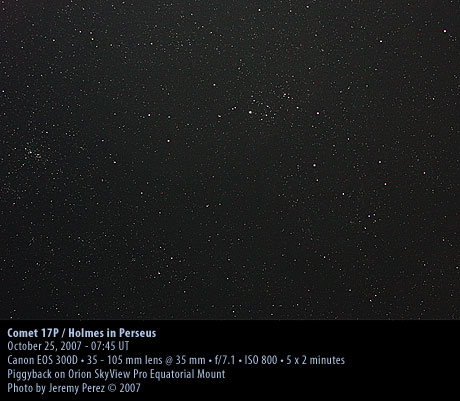 Move mouse over sketch above to view labels. Click image for larger version.
Subject
17P / Holmes
Classification
Comet
Position*
2:35 UT - Perseus: [RA: 03:52:53.1 / Dec: +50:08:38]
4:05 UT - Perseus: [RA: 03:52:49.8 / Dec: +50:08:56]
Size
Central condensation: 6 arc seconds
Coma: 60 arc seconds / 1 arc minute
Outer halo: 130 arc seconds / 2.2 arc minutes
Brightness*
~ 2.5 vMag
Date/Time
October 24, 2007, 7:35 - 9:05 PM
(October 25, 2007, 02:35 - 04:05 UT)
Observing Loc.
Flagstaff, AZ - Home
Instrument
SkyView Pro 6LT EQ (150 mm dia./1200 mm F/L)
Eyepieces/Mag.
32 mm Sirius Plössl (37.5X)
10 mm Sirius Plössl + 2X Barlow (240X)
12 mm Meade Astrometric + 2X Barlow (~200X)
Conditions
Clear, calm, nearly full moon
Seeing
4/10 Pickering
Transparency
~ Mag 4.5 NELM
*Sources
Aerith.net; Starry Night Pro Plus 5
*Based on published data.