Observation Notes:
Large, bright elliptical galaxy M87 appeared to be aligned at a PA of 100 degrees. It's core appeared stellar, and it shared the field with 2 other galaxies. The next brightest, NGC 4478 also possessed a bright speck at its core and appeared to line up at a PA of 150 degrees. The third galaxy had a soft, mildly condensed glow, aligned at 45 degrees. A bright yellow star colored the field about 5 arc minutes north of M87. Comparing the sketch to the DSS image below shows that I definitely need to refine my PA estimates on elliptical galaxies.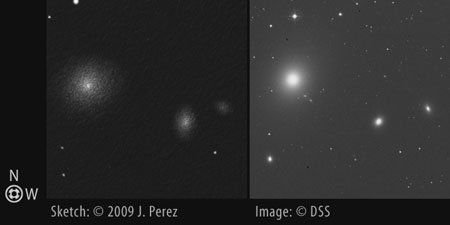 Object Information:
Lying at the heart of the Virgo Cluster, M87 is likely the dominant member. Its 120,000 light year extension contains several trillion solar masses. It contains several thousand globular clusters and is well known for a 5000 light-year-long jet emanating from a black hole at its core.
M87 was discovered in 1781 by Charles Messier and is also cataloged as NGC 4486, UGC 7654, MCG+02-32-105, ARP 152, CGCG 070.139, h 1301, GC 3035, 3C 274, PGC 41361.
NGC 4478 and 4476 were discovered by F.W. Herschel in 1784. NGC 4478 is also catalogued as UGC 7645, MCG+02-32-099, CGCG 070.133, H II-124, h 1298, GC 3031, VCC 1279, PGC 41297. NGC 4476 is also catalogued as UGC 7637, MCG+02-32-096, CGCG 070.128, H II-123, h 1296, GC 3028, VCC 1250, IRAS 12274+1237, PGC 41255
Subject
M87 (NGC 4486 / Arp 152), NGC 4478, NGC 4476
Classification
M87: Elliptical Galaxy
NGC 4478: Elliptical Galaxy
NGC 4476: Lenticular Galaxy (S0)
Position*
M87: Virgo [RA: 12:30:49.3 / Dec: +12:23:26]
NGC 4478: [RA: 12:30:17.3 / Dec: +12:19:43]
NGC 4476 [RA: 12:29:59.1 / Dec: +12:20:56]
Size*
M87: 8.3' x 6.6'
NGC 4478: 1.9' x 1.6' - PA: 140°
NGC 4476: 1.7' x 1.2' - PA: 25°
Brightness*
M87: 8.8 vMag; 9.7 bMag; 13.1 Surface Brightness
NGC 4478: 11.3 vMag; 12.2 bMag; 12.5 Surface Brightness
NGC 4476: 12.1 vMag; 13.0 bMag; 12.7 Surface Brightness
Date/Time
APR 26, 2009 - 10:50 PM (APR 27, 2009 - 05:50 UT)
Observing Loc.
Flagstaff, Arizona - Home
Instrument
Orion SkyQuest XT8 Dobsonian (203 mm dia./1200 mm F/L)
Eyepieces/Mag.
Pentax XW10 (120X)
Conditions
Clear, breezy, porch lights
Seeing
5/10
Transparency
Mag 5.5 NELM
*Sources
SEDS; NGC/IC Project; DSS; Starry Night Pro Plus 5; Atlas of the Messier Objects - Ronald Stoyan