It was just a month ago that I had the pleasure of meeting Neil Armstrong in person and listening to him speak--he was vibrant, focused, and inspiring. Sadly, it turned out to be his last public appearance. He passed away this weekend after complications from heart surgery.
I just finished prepping a small tribute at the Astronomy Sketch of the Day that I'd like to re-post here, with many thanks to all the lunar sketchers whose brilliant work keeps alive the sense of exploration and wonder that Neil helped inspire: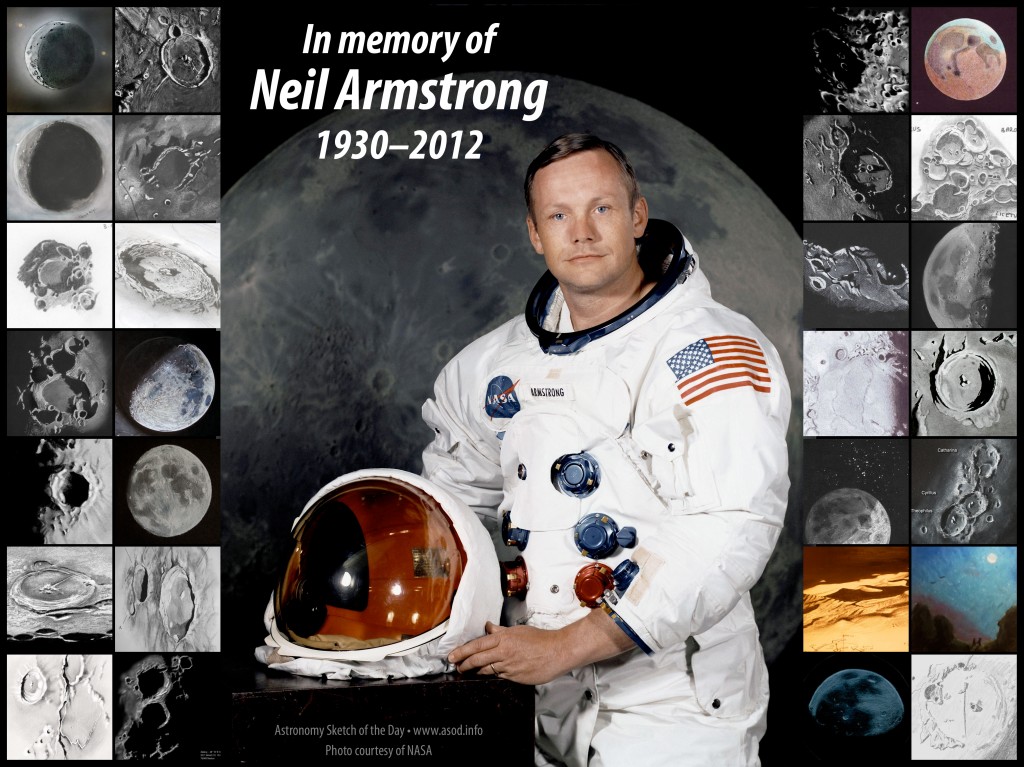 On August 25, 2012, the world lost a legend and an inspiration with the passing of Neil Armstrong—the first human to stand on another world. With his first steps on the Moon, Neil stoked the imaginations and passions of countless people across generations and around the world. He inspired many to examine the Moon, Solar System, and beyond—observing incredible places seemingly beyond our reach and imagining all the places humanity yet hopes to explore.
As we mourn his passing, we want to share these thoughtful words from his family:
"For those who may ask what they can do to honor Neil, we have a simple request. Honor his example of service, accomplishment and modesty, and the next time you walk outside on a clear night and see the Moon smiling down at you, think of Neil Armstrong and give him a wink."
Today's tribute image contains a small selection of the many lunar sketches submitted to ASOD over the years from observers across the globe.
Rusu Andor | Deirdre Kelleghan | Leonor Ana Hernandez | Sally Russell | Eric Graff | Carlos E. Hernandez | Serge Vielliard | Richard Handy | Dale Holt | Frédéric Burgeot | Mark Seibold | Roel Weijenberg | Erika Rix | Tamas Bognar | Darren Bushnall | Frank McCabe | Jeremy Perez | Judit Hannak | Gordon A. Webster | K. S. Min | Negar Najafi | Per-Jonny Bremseth | Janusz Pleniak | Louise Racine | Gerry Smerchanski | Mateusz Kopacz | Maciej Mucha | Peter Mayhew