Well, after a couple months of observing, and getting a feel for how I like to observe, make notes, and sketch, I set up a couple observation sheets that fit my style. I thought I'd show those here, so you can see how I make notes when I'm outside freezing my butt off, with a clipboard, red light, and pens and pencils falling periodically to the frigid ground below.
This is the one I'm using for DSO observations: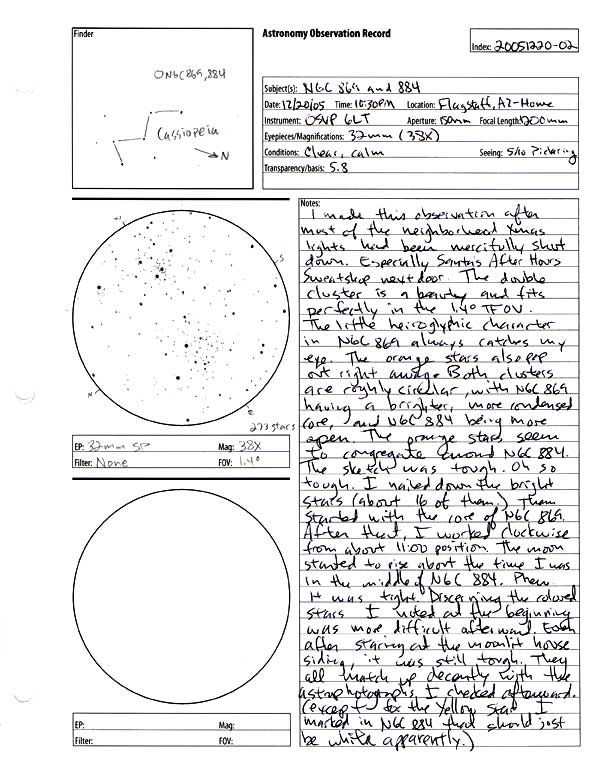 And this is the one I'm using for Lunar observations: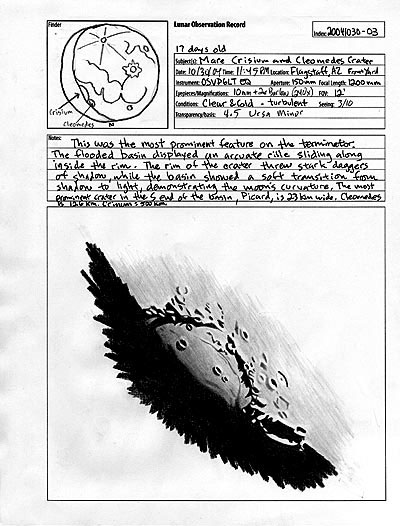 You might notice that I changed my sketching style ;-)
Those first couple months, I was more concerned with getting a general feel for what I was seeing so I could compare to star charts later and be sure I saw what I thought I saw. Having spent some time looking at the sketching styles of other amateur astronomers (Bill Ferris, Carol L., and Eric Graff among others), I finally decided to start taking the time to make my sketch look as much like what I see in the eyepiece as possible.
I went out and spent fifteen bucks on a few art pencils (2H, H, HB, 2B, 6B, 9B, and Ebony), blending stumps, a sanding board, a gummed eraser and a plastic eraser. Oh, and a ream of nice bright white 28# paper that I laser print my log sheets onto. The paper has just a little bit of tooth to it so I can do some blending (laser paper is too smooth in my opinion). I found that the gummed eraser is good for subtly lightening large areas if need be, and that the plastic eraser is actually really good at quickly taking out sharper areas without too much distress on the paper. So anyway, it's actually been fun. Freezing cold at the same time, but that's where the long johns and fingerless gloves come in. My main problem now is positioning the red light. It hangs on a string from my neck, and I lay it on the clipboard that I rest against my chest as I sketch. I have to repeatedly reposition the light so a smooth portion of it illuminates my sketch area. Kind of a pain, but it works.
If anyone is interested, I could post a pdf of each of the log sheets--with my name removed of course ;-)