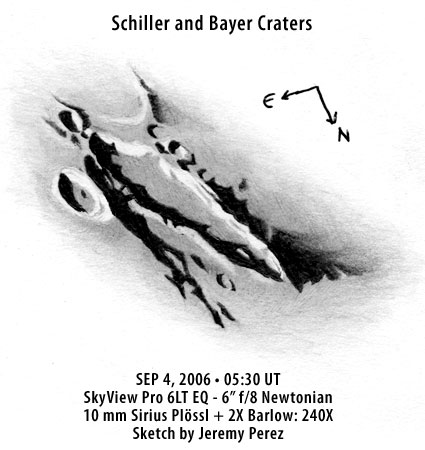 Observation Notes:
This was my first lunar sketch in a lonnnng time. Schiller was very nicely placed. Its northern stretch was in the thickest shadow with one mountain peak illuminated. A ridge peeled away from the southeast side of the crater and was bounded by Bayer on the other side. The crater floor was smooth and dark. Due to its position near the limb, there is surely a lot of perspective making it seem even more elongated than it really is. I can imagine multiple impacts generating Schiller's oval shape.
Object Information:
Shiller is a steep walled, 171 km x 71 km plain with a larger, smooth souther portion that narrows to the north. The northern section is crossed by two large north-south ridges.
Subject
Schiller and Bayer Craters
Classification
Crater
Position
Southwest
Phase/Age
11.4 days old
Size*
Schiller: 171 x 71 km
Bayer: 46 km
Date/Time
September 3, 2006, 10:30 - 11:45 PM MST (September 4, 2006, 05:30 - 06:45 UT)
Observing Loc.
Flagstaff, AZ - Home
Instrument
Orion SVP 6LT Reflector (150 mm dia./1200 mm F/L)
Eyepieces/Mag.
10 mm + 2X Barlow (240X)
Conditions
Partly cloudy, calm
Seeing
Ant. IV
Sources
The Moon Observer's Guide By Peter Grego
Virtual Moon Atlas
* Based on published data.